Wisam Ghuneim - Ghuneim Law Firm
Wisam Ghuneim, one of the co-founders of Ghuneim Law Firm, is a seasoned trial lawyer with a strong commitment to advocating for the rights of the underprivileged. Wisam Ghuneim - Ghuneim Law Firm is one of the Three Best Rated® Personal Injury Lawyers in Pasadena, TX.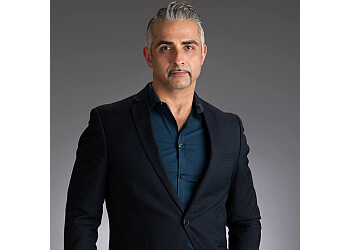 Having initially worked as a corporate lawyer representing companies, he gained valuable insight into the defense strategies employed by companies when facing Plaintiffs. Today, he channels that knowledge to stand against insurance companies and corporations, working tirelessly to secure favorable outcomes for his clients. Renowned for his courtroom prowess, Mr. Ghuneim has earned the admiration and respect of his peers, colleagues, judges, and the legal community at large. Throughout his career, he has handled numerous cases on behalf of his clients, employing his expertise in litigation, arbitration, and mediation.
Motor Vehicle Accidents

Trucking Accidents

Motorcycle Accidents

Pedestrian Accidents

Drunk Driving Accidents

Brain Injuries

Medical Malpractice

Professional Negligence

Product Liability

Fires and Explosions

Plane Crashes

Railroad Crossing Accidents

Nursing Home Abuse

Catastrophic Injury/Accidental Death

Intentional Tort & Class Action Lawsuits
Totally pleased with the services and attention provided by the Ghuneim Law Firm team. Throughout the process they were our greatest support and always kept us informed of the status of the case. It is not easy for anyone to live an experience of this type, a traffic accident, where you are not at fault is uncomfortable and frustrating. Ghuneim Law Firm and its associates made this experience smooth and rewarding. Without a doubt, I would recommend them to friends and family for their high performance, commitment, responsibility and their human side.
Mrs. Karla was a wonderful attorney and worked so hard to resolve my accident case as quickly as possible. Highly recommend this law firm!
The cleanest offices the widest smiles the best of services if one is looking for the lawfirm that would stand by you all the way With more than satisfying results Willing to help in anyway best representation one could ask for
Mon-Thu: 8:30am - 6:30pm
Fri: 8:30am - 5pm
Sat: 11am - 3:30pm
Sun: Closed
Nearby Personal Injury Lawyers in Pasadena: