VIP Grooming Salon
VIP Grooming Salon is a family-owned and operated salon with a team of highly trained and experienced pet stylists. VIP Grooming Salon is one of the Three Best Rated® Pet Grooming in Grand Rapids, MI.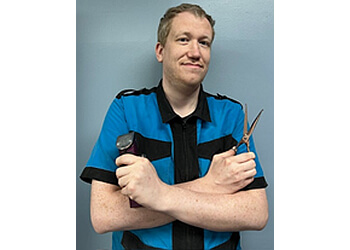 The salon is equipped to handle all breeds of dogs, cats, and small pets, such as rabbits, guinea pigs, and ferrets. VIP Grooming Salon takes pride in enhancing the cleanliness and hygiene of your pet through its quality grooming services. Their certified pet stylists are experts in handling difficult dogs and work to train them so they no longer require sedation during grooming. Their team is CPR/FIRST AID certified. The salon uses natural and organic shampoos and conditioners to cater to the individual needs of each pet. Additionally, they offer creative color accents for your pet's fur, as well as walk-in $5 nail trimming services during salon hours. Grooming stylists are available by appointment only, and most pets are groomed and ready to go home within 2-3 hours. They also serve in Michigan and surrounding areas.
Massage

De-Funk the Skunk

Ears Cleaned

Pads and Sanitary Trim

Nails

Fresh Breath Teeth Treatment

Skin Therapy

Warm Fluff Blow-Dry

Hand Scissoring

Designer Cologne

Skin

Coat Analysis

Bows & Bandanna
We have a 4 month old puppy ( mini BerneDoodle) and he is shy around new people. It takes him a while to warm up. Josh was wonderful and was very caring and considerate towards our pup. Jackie was kind, welcoming, and even showed myself and my son the grooming area and explained the process. We drove one hour for this appointment and we will be back.
We took our girl Bristol here for the first time & they were amazing!! Josh did her grooming beautifully. Even though Bristol isn't the easiest to groom (she's part husky) they were still able to give us back a very pretty pup! :) We really appreciate how well they took care of our girl.
I brought my cat here today for a haircut for the first time and was so happy with our experience! The staff were all so kind and Josh did a fabulous job with the lion trim. We will definitely be back!
De-Matting: Starting at $5
Premium Mineral Foot Soak - $8
Twinkle Toes Treatment - $5
Fresh Breath Treatment - $10
Nail Trimming $10
Nail Trim & Grinding $25
Flea & Tick Bath $10
Rotective Shield $10
Premium Mineral Foot Soak - $8
Twinkle Toes Treatment - $5
Fresh Breath Treatment - $10
Nail Trimming $10
Nail Trim & Grinding $25
Flea & Tick Bath $10
Protective Shield $10
De-Shed Package $15
De-Funk the Skunk St
Arting at $20
Mineral Red Treatment $10
Whitening Treatment $10
Reconstruction Treatment $25
Black Passion Line $10
Caviar Green Ring Line $6
Temperament or Behavioral Issues $5-10+
Skin Therapy Treatment $25
Pet Hair Dye Prices Start at $25
Stenciling $10
Feather Extension $5

Tue-Sat: 8:30am - 4pm
Sun & Mon: Closed
Other Pet Grooming in Grand Rapids: