Azari Property Management
Azari Property Management is an award-winning Property management company in San Francisco, California. Azari Property Management is one of the Three Best Rated® Property Management in San Francisco, CA.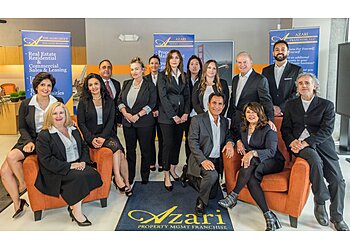 Under the expert guidance of Manzar, the owner, they excel in providing tailored solutions for clients' properties, specializing in real estate, human resources, sales, and marketing services. Striving for excellence, the company's primary focus revolves around delivering unparalleled customer service to property owners and tenants alike. Their proactive approach prioritizes preventative measures over reactive responses, resulting in substantial savings on unnecessary legal fees. Upholding the highest standards of professionalism and integrity, they are deeply passionate about the Real Estate and Property Management industry. Their ultimate vision is to offer their valued investors effortless property management and peace of mind. Azari Property Management extends an invitation for an initial complimentary consultation meeting to discuss individual needs and requirements, ensuring personalized solutions for each client.
Accounting Services

Timely and Accurate Tenant Billing

Periodical Inspections

Maintenance and Repairs

Preparation of Annual Operating Budgets

Training and Supervision of On-Site Personnel

Negotiating Service

Tracking Vacancy Rates

24 Hour Toll-Free Emergency Service

Vacancy Factors

Time-On-Market & Rent Values for the Area
Azari PM team has done an excellent job with managing my mother's property in the city. Special thanks to David A. for quickly finding a tenant. The house needed minor/moderate reno; they handled all that. Great work was done. The home was promoted quickly and after multiple showings a competitive long term lease was made. Very good communication throughout. You can trust Azari with complex Bay Area property management. Thank you.
I just moved into a property managed by Azari PM and have had great experiences with their team so far. Manzar was very accommodating and willing to work with us on our requests throughout the lease preparation and signing process (it took us a while to lock in all of our co-applicants but she held the place for us and was very willing to work with our timeline). When we moved into the place there were a few things I wanted to get fixed in my room so I submitted a maintenance request and somebody showed up later that day to take care of it. Azari PM has been great to work with and very responsive!
Today i experienced excellent customer service, by Azari Property Management. The back hall stairway lights were out in our building. I submitted a request in the web portal to fix. The property manager sent out an EXCELLENT, polite & knowledgeable handyman/electrician named "Victor Soto". Victor phone as he was on his way. Identified the problem, in what was a new building for him. Quickly established what breakers were malfunctioning in the 'Electrical Closet' - and had the issue resolved in no time. Friendly, fast & most importantly, Victor fixed the issue. Great service. Great job.
Winner of The Spectrum Award for Service Excellence 2016 & 2017
Mon-Fri: 9am - 4pm
Sat & Sun: Closed
#02059402|#00805386|#978008
Other Property Management in San Francisco: