CHARYSMEL F. MANASRA, ESQ. - MANASRA & MANASRA, LLC
Charysmel F. CHARYSMEL F. MANASRA, ESQ. - MANASRA & MANASRA, LLC is one of the Three Best Rated® Real Estate Lawyers in Jersey City, NJ.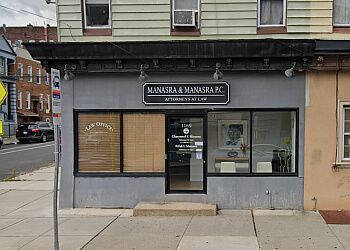 Manasra, Esq. is the managing partner of Manasra & Manasra, LLC. She earned her Juris Doctor from Seton Hall Law School. Charysmel's legal practice specializes in assisting both buyers and sellers of residential and commercial real estate throughout the entire process, from contract to closing. Manasra & Manasra, LLC is a comprehensive law firm that concentrates on commercial and residential real estate transactions. The firm's services encompass development, zoning and construction, financing, acquisitions, and sales, catering to diverse clients. They prioritize working closely with clients to understand and address their unique legal requirements. Manasra & Manasra aims to provide exceptional legal services to its clients in their real estate dealings, representing individuals, investors, developers, and private lenders in residential and commercial transactions across New Jersey.
Residential and Commercial Leasing

Starker Reverse Exchanges

1031 Tax-Free

Deferred

Landlord and Tenant

Quiet Title Actions

Lease Disputes

Home Equity Lending & Real Estate Litigation
The best! Highly recommend without hesitation. Charysmel was a pleasure to work with. The quality of the team's work was superb. Charysmel was extremely diligent and without doubt was primarily motivated by protecting the interests of her clients. Charysmel was always readily available and extremely responsive to questions. She used clear plain language to describe the process. The office itself is very nice and easy to get to. Thank you Charysmel and team!
This is my second time working with the office of Manasra & Manasra and the experience has been nothing short of amazing. Her and her staff are very responsive, hands on, and most importantly knowledgeable. They truly work for you with the objective of getting the job done and your best interest at heart.
We worked with Manasra and Manasra on our recent home purchase. It was a real pleasure working with Charysmel, she is professional, very knowledgeable, on top of everything and always looked out for our best interest. She always kept us in the loop and was very detailed in explaining our options to us, even at closing she was very informative and took her time to go through the details of our closing package instead of rushing through it. This is our second home purchase and by far this is the best law firm to work with - definitely recommend them and will look to use them again ourselves if needed.
Mon-Fri: 9:30am - 5pm
Sat & Sun: Closed
Nearby Real Estate Lawyers in Jersey City: