TAYLOR F. WILLIAMS-MONIZ - Donahoe Young & Williams LLP
Taylor F. TAYLOR F. WILLIAMS-MONIZ - Donahoe Young & Williams LLP is one of the Three Best Rated® Real Estate Lawyers in Santa Clarita, CA.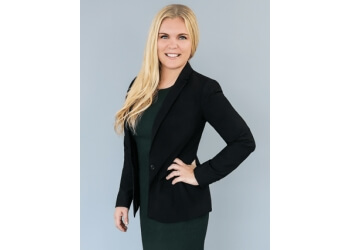 Williams-Moniz is one of the partners of Donahoe Young & Williams LLP. She received her JD from Pepperdine Univ School of Law. She is a member of the American Bar, Santa Clarita Valley Bar, and San Fernando Valley Bar Association. Taylor specializes in real estate, business transactions, and bankruptcy matters, as well as probate, estate planning, and landlord/tenant issues. Donahoe Young & Williams LLP is a renowned law firm that has been successfully serving clients in Encino and Santa Clarita Valley areas and throughout Southern California for over 100 years. The team of accomplished attorneys at the firm is focused on helping you achieve the best possible outcomes for your case in a cost-effective manner. If you are in need of legal assistance, you can schedule a free 30-minute evaluation with Donahoe Young & Williams LLP. Contact them today to schedule a case evaluation.
Purchase and Sale Agreement Formulation and Review

Lease Preparation and Review

Actions to Set Aside Fraudulent Transfers or Encumbrances

Lien Priority

Boundary Line and Easement Disputes

Concealment or Non-Disclosure of Defects

Partition Actions

Quiet Title

Neighbor Disputes

and Nuisance Claims & Association Default Claim
Taylor, Robert and the entire DY&W team made a difficult process extremely quick and easy. I attempted to resolve a legal/financial matter on my own and when I was unable to move things forward, DY&W got the matter handled quickly, professionally, and resolved exactly the way I wanted. I'd recommend them to anyone!
Taylor and her team at Donahoe & Young were completely upfront and honest and helped us through our lease negotiation. They turned around notes quickly and gave us the support we needed to get to a closed deal.
Taylor Williams and Betty Lu are the best. They are very efficient and caring. I would use them again without a doubt. Very professional.
Mon-Fri: 9am - 5:30pm
Sat & Sun: Closed
Nearby Real Estate Lawyers in Santa Clarita: