PRP Architects (POHL ROSA POHL)
PRP Architects (POHL ROSA POHL) has established itself as a renowned architectural firm in Lexington, Kentucky. PRP Architects (POHL ROSA POHL) is one of the Three Best Rated® Residential Architects in Lexington, KY.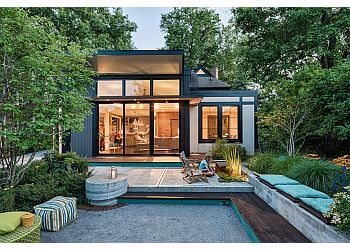 Founded by the Pohl brothers, Clive and Graham, along with architect Krisia Rosa, the firm stands on a solid foundation of design excellence, community service, and environmental stewardship. Located in the Ashland Building in Lexington, their team shares a deep passion for design, fostering a collaborative spirit and a strong belief in the power of artful placemaking to inspire and uplift the community. With a comprehensive range of services, PRP Architects caters to projects of all sizes and budgets, offering consultation to complete project management. Whether for homes, businesses, civic organizations, or non-profits, the firm provides expertise in design and construction to fulfill its clients' visions. Many of their projects have received historic preservation and green building design accolades, with some even being featured in national publications. They offer customers direct access to the firm's principles, ensuring personalized service and streamlined efficiency.
Residential and Commercial Projects

Interior

Color Consulting

3 D Modeling

Sustainable

Green and Lighting Design

Detailed Drawings

Historic Preservation

Plan Packages and Furniture for New Construction

Additions & Remodels
Clive and his team at PRP have been wonderful partners helping design our custom home ...from walking the site to imagine possibilities, through bid, construction and decorating choices. His ability to willingly listen to our needs and our ideas, then parlay them into something more elegant and professional that we could have ever imagined, is a key attribute in an architect that really can't be overstated. Very happy we went with PRP!
Pohl Rosa Pohl is a highly talented, forward-looking architectural firm. Clive Pohl is organized, professional, a practical out of the box thinker and a pleasure to work with. I will never hire any other firm!
Any experience with Pohl Rose Pohl is amazing, the professionalism of the staff does not go unnoticed. Thank you for valuing me!
Mon-Fri: 8am - 5pm
Sat & Sun: Closed
Nearby Residential Architects in Lexington: