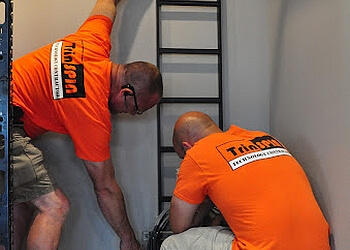 TrinSPIN is a Fargo-based technology solutions business. They are dedicated to resolving and simplifying technology challenges for homes and businesses. They possess the skills and expertise necessary to create and install AV systems for both residential and commercial use that align with the client's budget. Their team of experts excels in delivering integrated audio and video solutions for home theatres, music rooms, and home offices, utilizing cutting-edge technology for hassle-free video conferences and presentations. As a networking solutions provider, TrinSPIN offers a range of products and services tailored to enhance business efficiency, with a focus on cost savings without compromising on picture and sound quality. TrinSPIN also provides a diverse selection of security systems tailored to individual requirements and is currently licensed in three states, ensuring peace of mind with their 24/7/365 services.

UNIQUE FACTS:
• Veteran Discounts
• Protect Your Family and Treasured Belongings
• Free Consultations
• Payment Plans are Available.
Specialty:
Residential and Commercial Solutions, 24-Hour Monitoring, Turnkey Solutions, Complete Security Systems, Window and Door Sensors and Alarms, Door Lock Sensors/Alarms, Computer Cabling & Sprinkler Systems/Irrigation Systems Control


Serving Locations:
Fargo & Moorhead
Contact:
Working Hours:
Mon-Thu: 8am - 5pm
Fri: 8am - 1pm
Sat & Sun: Closed
TBR® Inspection Report: