Christopher Harrell - HARRELL LAW OFFICE
Chris Harrell is a seasoned professional attorney with over 20 years of experience and has dedicated his career to representing Social Security claimants. Christopher Harrell - HARRELL LAW OFFICE is one of the Three Best Rated® Social Security Disability Lawyers in Louisville, KY.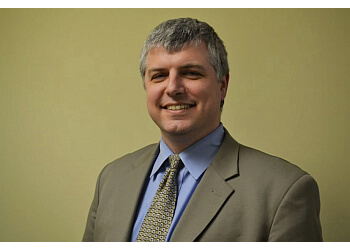 His expertise lies in assisting disabled individuals who are applying for benefits from the Social Security Administration. With a strong track record of successfully appealing disability cases before the Social Security Appeals Council and Federal District Court, Chris is well-versed in the intricacies of the process. Chris takes great pride in his team of professional and courteous employees who provide unwavering support to his clients. Their commitment to excellence has earned them the trust and respect of a loyal customer base. When you choose Chris Harrell to guide you through the application process, you can expect a comprehensive and compassionate approach. He understands the complexity of navigating the Social Security disability system and is dedicated to helping you every step of the way. They are pleased to provide consultations and meetings through telephone or online video conferences, including mediation.
Social Security Claimants

Appeals

Social Security Administration

Disability Insurance

Supplemental Security Income

SSD Benefits

Application Process & Family Law
Exceptional Legal Services. Mr. Harrell took my case after being denied disability twice by the Social Security. He basically manages the whole process before my hearing appeal. He coached me and explained the process before the hearing. He's very well knowledgeable with the process and legality. I recommend his services 100%. Don't do this process alone. We succeeded at the hearing and now I have my disability benefits. Thanks Again Chris for your support during this process.
Very professional, keeps you informed about the progress of your case, very knowledgeable about the process and helps you with every step of the process. Very pleased with the job Chris did for us and would recommend Chris for any legal needs that he takes care of.
I would and have recommended Chris to anyone fighting for disability. His office made the process easy to understand, the staff always fully answered all of my questions. Great service and results.
Contingency fee starts from 25%
Mon-Fri: 9am - 5pm
Sat & Sun: Closed
Other Social Security Disability Lawyers in Louisville: