PARMELE LAW FIRM, P.C.
Parmele Law Firm, P. PARMELE LAW FIRM, P.C. is one of the Three Best Rated® Social Security Disability Lawyers in St Louis, MO.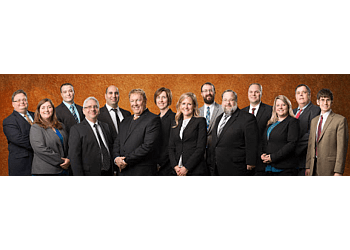 C. is comprised of a highly experienced team of attorneys specializing in Social Security Disability. With decades of combined expertise, their lawyers are skilled in successfully obtaining social security disability insurance benefits for clients, even in cases where previous claims have been denied. Their accomplished disability attorneys have assisted over 50,000 individuals in securing social security disability benefits. Combining their deep understanding of Social Security Disability Law with compassionate advocacy, they instill confidence in their clients and inspire trust within the community. Their unwavering commitment has resulted in the successful receipt of deserved benefits for tens of thousands of clients over the years. They offer complimentary consultations at all of their locations, and there are no attorney fees unless they win your case.
Social Security Application

Supplemental Security Income

Social Security Claimant's Representatives

Disability Determination

College Students with Disabilities

Medline Plus Disabilities

Social Security Disability Insurance

Adjudication Process & Hearings
I was Very impressed with the Customer Service and Support Parmele law firm provided me. After my initial consultation.They new me and my case.They provided me with All the templates I needed to provide for my Disability Case. After Fed/State reviewed my case. It was approved! No need for further involvement of Parmele.Because They presented evidence and every detail that could be in questioned . I Highly recommend Parmele.
Parmele was always there if I had questions. Everyone was very professional and courteous. I'm sure there were a lot of moving parts behind the scenes I was not bothered with. My outcome was very positive. If your looking for a law firm to help with SSDI look no further.
Every single paralegal, attorney, office workers I talked to were the absolute best, most professional, kind and knowledgeable during my disability claim procedure!! Highly recommend them to everyone.
Mon-Fri: 8:30am - 4:30pm
Sat & Sun: Closed
Other Social Security Disability Lawyers in St Louis: