aStash Web Design & Marketing
AStash Web Design & Marketing, located in Fort Collins, Colorado, is a professional agency that specializes in web design and digital marketing. aStash Web Design & Marketing is one of the Three Best Rated® Web Designers in Fort Collins, CO.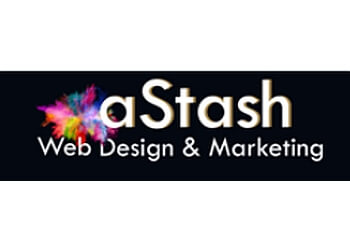 Their aim is to enhance websites with designs that evoke satisfaction and trust in users. Their ultimate objective is client satisfaction and they strive to achieve it by creating high-quality and thoughtful projects. AStash is a 100% family-owned business with over 30 years of experience in the industry. Their main focus is on driving website traffic, increasing phone calls, and boosting sales. They are committed to delivering the best web design services, always exceeding customer expectations. AStash offers WordPress website design solutions and digital marketing services tailored for local businesses, aiming to promote their brand and improve conversion rates. They are experts in creating responsive pages that can adjust to any screen size. AStash provides free quotes to their clients.
Web Design and Development

SEO

E-Commerce

Branding

Logo Design

PPC

SMM

Digital Marketing & Website Maintenance



Denver

Fort Collins

Las Vegas

Seattle

Atlanta

Chicago

Houston

Los Angeles

Miami

Minneapolis

New Orleans

New York City

Phoenix & San Diego
Kateryna has built a model of what web design and SEO should be. Besides being highly knowledgeable, personable, and intelligent, her responsiveness and integrity are rare in this niche. I strongly recommend Astash as they are very responsive and extremely thorough in their website development. Post-production, I received thorough instructional videos customized for my website to self-edit as needed.
Astash did an amazing job building the website for my group psychotherapy practice. They are responsive to our requests and were excellent in their understanding of what we wanted to be built and delivering the site we needed. The level of professionalism was refreshing.
Astash took my old website from mediocre and turned it into a masterpiece! I previously had beautiful images of my bronze sculptural works on my website, but it was disorganized and unimpressive. They provided strategic guidance, and design input, and of course executed the project on time and on budget. I couldn't be happier with the Astash team.
Kickoff Package $1,499 Initial Setup + $399 per Month
Levitate Package $1,999 Initial Setup + $499 per Month
Rocket Package $2,999 Initial Setup + $999 per Month
Mon-Wed & Fri: 7am - 5pm
Thu: 7:30am - 5pm
Sat & Sun: Closed
Other Web Designers in Fort Collins: