M5 Design Studio
M5 Design Studio is a locally-based, professional web design agency in Orlando and Central Florida that is dedicated to crafting stunning, functional, and cost-effective web and graphic designs. M5 Design Studio is one of the Three Best Rated® Web Designers in Orlando, FL.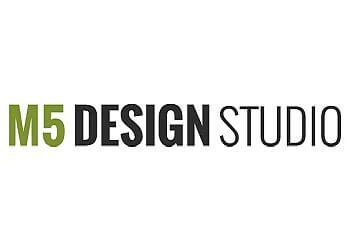 Their objective is to create affordable, professional, visually appealing websites and graphic designs. The agency employs cutting-edge design and technology to offer imaginative ideas and Orlando web design solutions that are tailored to your needs. They specialize in various areas such as WordPress websites, SEO, online marketing, social media, graphic design & branding. Their team of enthusiastic designers and developers who specialize in web design, graphic design, and branding, delivering inventive ideas and groundbreaking graphic and web solutions through professional service and the latest trends in design and technology. Moreover, M5 Design Studio takes pride in delivering excellent customer service to clients in Orlando and Central Florida and is always pleased to offer a complimentary quote for their services.
Web Design

Development

WordPress

Branding

Logos

Market Research

Analysis

Social Media and Email Marketing

Google Adwords

Corporate Identity

Promotional Materials

Search Engine Optimization (SEO)

Website Optimization

Content Creation & Link Building
I have had the best experience working with M5 Design Studio! They created a beautiful website for us which has brought so much more traffic to our business, we are so grateful! And they always help us come up with fresh new marketing strategies that work. They are dependent, reliable and over all a pleasure to work with. Definitely one of the best Orlando web design companies out there! Thank you!!!
They exceeded our expectations from the very beginning. A great team of talented website professionals that offer great advice, beautiful designs and helped us make the website of our dreams for our business. They were punctual, detail oriented and never felt upset or annoyed by our tweaks. They were all extremely friendly and professional and delivered an amazing product and experience
Martha and M5 Design Studio did an excellent job on my website! I was very happy with the result of my site. They listened to my needs and created a beautiful website. They were also easy to work with. Any time I needed them to tweak something with the site, they responded quickly. They did as I asked and I would highly recommend them!
Mon-Fri: 9am - 5pm
Sat & Sun: Closed
Other Web Designers in Orlando: