From this Moment Wedding Ministries
'From this Moment Wedding Ministries' stands out as a prominent wedding officiant service in El Paso. From this Moment Wedding Ministries is one of the Three Best Rated® Wedding Officiants in El Paso, TX.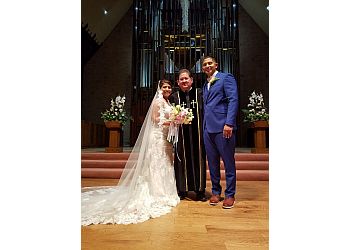 Ruben Escandon, the founder of the business and creator of 'Elpasoweddings.net', is dedicated to delivering a beautiful and personalized wedding ceremony that won't break the bank. His goal is to ensure your special day is truly memorable and affordable. The officiant's venue can comfortably accommodate up to 80 guests, boasting charming stained glass windows and all the traditional amenities you'd expect in a memorable chapel setting. This officiant offers an appealing alternative for couples seeking a more meaningful experience than a quick courthouse wedding. You have the option to select Package 1, which includes the use of the candlelight chapel, a 45-minute reservation, the minister's fee, traditional background music, and a unity candle-lighting ceremony.
Quinceañeras

Lasso and Arras

Unity Candle Ceremony

Sand

Letter Box/wine

Hands of The Bride and Groom Ceremony

Butterfly Release

Scripture Readings

Parental Honoring

Friends

Candle Lighting

Memorial College

Destination

Non-Denominational

Spiritual

Inter-Faith Marriage

Background Music & Marriage License
Ruben Escandon officiated our wedding. It was the best day ever!! When we first met him, I was completely impressed with him. My sister had told me about him about a year ago. She kept telling me to go see him, and when we finally decided to get married, he was the first and only person we went to see. The mass that he gave was beautiful. He is a true professional and will cater to your every need. I highly recommend Ruben Escandon if you want a beautiful and very meaningful wedding ceremony. We would not have chosen anyone else. I am so glad that Ruben was a part of our wedding.
Ruben took the time to get to know us before the wedding. This really personalized our ceremony. We are still getting wonderful comments about how Mr. Escandon performed our ceremony. He is professional and charismatic. He checked up on us before we got started, put us at ease and we were able to get started early. Thank you for all of your help and for creating a personalized ceremony for us.
Our wedding was beautiful thanks to Ruben, not only did he take the time to get to know know us but he's professional has a great sense of humor. I would highly recommend him to my friends and family. Thank you for making this day extra special.
Nearby Wedding Officiants in El Paso: