Intertwined Weddings & Events LLC.
Intertwined Weddings & Events LLC. Intertwined Weddings & Events LLC. is one of the Three Best Rated® Wedding Planners in Irvine, CA.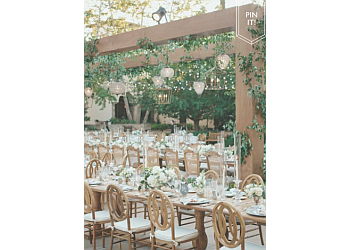 establishes itself as a leading wedding planning enterprise in Irvine, ranking among the best in the industry. Co-founded by Katie Webb Brundige and Meghan Clem, this business brings together their combined expertise and passion for creating extraordinary events. Katie Webb Brundige holds a Bachelor's Degree in Hospitality and Tourism Management, with a specialization in Event Management from San Diego State University. Meghan Clem, on the other hand, earned her bachelor's degree in Public Relations from the University of Southern California. The mission of Intertwined Weddings & Events LLC is to enhance their clients' radiance through stylish events, impactful social media campaigns, and comprehensive promotional programs. Their dedicated team endeavors to align your dream wedding with their wealth of planning experience. With over a decade of industry expertise and a distinct creative flair, Intertwined Weddings & Events LLC provides a comprehensive range of services tailored to meet the unique needs of each client. Whether it's a local wedding or a dream destination event across the globe, their team will go above and beyond to ensure your occasion is nothing short of amazing.
Venue Selection

Special Events

Budget Analysis

Day and Month of Coordination

Anniversaries

Reception

RSVP Tracking

Private Parties

Ceremony

Destination Weddings

Event Design and Management

Full and Partial Planning

Logistics

Site Inspection

Planning Time Line

Rehearsals Dinner

Baby and Bridal Shower

Engagement Party

Timelines & Referrals
We are an events vendor and we had the honor of working with Martina & Meghan from Intertwined events at a recent event. We work with a number of high profile clients, large companies, and I just wanted to say IE was a complete class act. We had such an amazing experience working with Martina on a recent event from planning to event day. She was extremely attentive to every detail for the client, relaying their needs to us quickly and professionally. She was able to get all of our questions answered and really went above and beyond to ensure we had everything we needed to help make the client's event a complete success. Outstanding communication and execution. Upon arrival Martina & Meghan were beyond helpful for our team... and the event was flawless! From beginning to end and the guests were beyond pleased! Whether you are representing a highly detailed wedding or an event for a fortune 500, I highly recommend bringing in IE to help guide your next event to complete success!
The absolute best advice I could give to a bride is to hire Kelsey and the Intertwined team as your full-service planner. Kelsey saved us money in every decision with every vendor and thought of things we couldn't fathom that we needed. She elevated our inspiration and details to a level that made for an absolutely perfect wedding day. Her knowledge in the industry and attention to detail is unmatched. On the day of the wedding, Kelsey flawlessly orchestrated the entire day to the point that we never had to worry about a single thing! I couldn't imagine not having Kelsey and her team as such a big part of our day. It was an absolute joy to have her involved in the entire process. We are so incredibly grateful for everything she did to make our wedding day so magical and memorable.
Amy Kutcha is marvelous. From day one, she made sure I knew she was it! I passed along my likes, dislikes, and my wants. She made sure I got everything I wanted. Everything was PERFECT the day of. We were 1000% happy. Thank you Amy!!
Full Planning + Design $18,500
Partial Planning $13,500
Wedding Coordination $4,950
Mon-Fri: 9am - 5pm
Sat & Sun: Closed
Other Wedding Planners in Irvine: