1st and 10 Bail Bonding, LLC
1st and 10 Bail Bonding, LLC is a family-owned business established in 2010. 1st and 10 Bail Bonding, LLC is one of the Three Best Rated® Bail Bonds in Fayetteville, NC.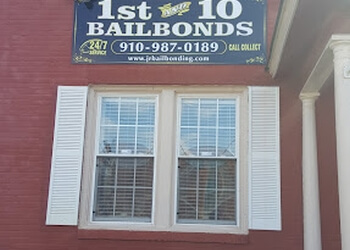 They have hardworking family members and great, passionate, and enthusiastic employees. Choose them to assist you with all of your bail bonding needs in Greenville and Fayetteville, NC, and other areas in the surrounding counties in North Carolina. 1st and 10 Bail Bonding, LLC was built on effort, integrity, accountability, and commitment to excellence. Their company owner learned these fundamental characteristics while playing and coaching college and professional football. They believe in uncompromising actions toward great customer service and live by their tagline, "Helping Good People in Hard Times." Because of this, they offer 5% down payment plans to help their customers. They believe each individual is innocent until proven guilty in a court of law. They are committed to providing each client with professional, affordable, fast service.
Surety

Traffic Violations

Disturbing the Peace

Disorderly Conduct

Criminal Charges

Credit Card Fraud

Cash

Own Recognizance

Domestic Violence

Possession of Drugs

DUI/DWI & Felony Bonds
I am glad to say that Ms Teresa did an awesome job when I called for her help. This was my first time going through anything like this and when I called her she was able to walk me through the process and it really calmed my down. I was really impressed with her professionalism and being on time which made this experience an easy one. She explained all the details necessary and everything worked out. Teresa was a blessing thank you.
Great customer service , When everyone else turned us away he gave us a yes even with a C bond ! Junior helped bail my family member out swiftly without any trouble at all. I would definitely use him again if ever in a bind! If you use him you definitely won't be disappointed he goes above and beyond !
Junior Smith was so helpful to me. He was friendly, prompt, and understanding. He made me feel very secure in trusting him to help me. I'd give him 10 stars if I could!
Other Bail Bonds in Fayetteville: