Ananda Salon and Skin Center
Ananda Salon and Skin Center have embraced sustainable practices in their design, prioritizing an accessible and healthy environment while minimizing negative impacts on the environment. Ananda Salon and Skin Center is one of the Three Best Rated® Beauty Salons in Chandler, AZ.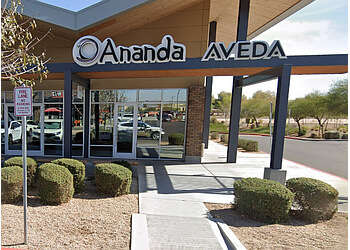 At Ananda, they hold a deep respect for both inner and outer beauty. Their core dedication is to foster an environment where beauty and bliss harmoniously coexist. With a mission to inspire and celebrate beauty, they offer innovative, creative, and unique hair and skin services. They are steadfast in their commitment to providing high-quality products that are ethically sourced and responsibly produced. They maintain a steadfast commitment to providing products of the highest quality, obtained through ethical sourcing and responsible production practices. The design of Ananda Salon embraces sustainable practices to ensure an environment that is accessible, healthy, and minimizes negative impacts on the environment.
Color

Vomor Hair/Lash Extensions

Cut

Style

Braiding

Detangling Knot Removal

Facial

Waxing

Microblading

Lashes

Massage

Peel & Dermaplane
I had a lash lift done by Jordan M. last week and I'm in love with the results :) Her manager Jen was amazing as well! They were very informative about the aftercare & what not to do in order to have the best results! Jordan made me feel so welcomed and I cannot wait to get more services done with her, she is the best!
I had a new set of classic lashes put on by lash artist Jordan M. They look so good! Exactly what I wanted! Jordan was so gentle and the time just flew by! I will definitely be back for my fill from Jordan in a couple weeks! Ananda has such a chill environment , I have used many of their services and feel so welcomed there!
Caesi Fox is an amazing hairstylist. She always listens to my hair concerns and gets my hair icy blonde. I have been going to her for almost two years now.
Haircuts:
Women - $30-70+
Men - $20-50+
Kids - $20-35+
Facials:
30 min - $40-55+
45 min - $65-80+
75 min - $100- 115+
90 min - $115-130+
Back - $50-65+
Peel:
Add on - $25
A La carte - $35
Dermaplane:
Add on - $30
A La Carte - $60
Waxing:
Brows - $18+
Lip - $12+
Cheek - $16+
Chin - $16+
Nose - $20+
Ears - $20+
Back - $50+
Chest - $50+
Mon-Thu: 9am - 8pm
Fri: 9am - 6pm
Sat: 9am - 4pm
Sun: Closed
Nearby Beauty Salons in Chandler: