Guy And Gal Salon
Guy And Gal Salon has been one of the best beauty salons in Chandler, AZ, for over 17 years. Guy And Gal Salon is one of the Three Best Rated® Beauty Salons in Chandler, AZ.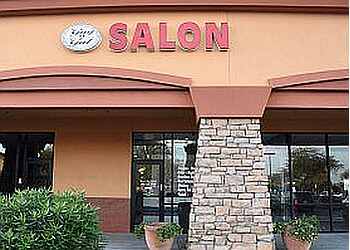 Their devoted clientele values the salon's exceptional products, services, and affordability. At Guy and Gal Salon, their committed and skilled stylists provide an unforgettable experience. Customers visit Guy, and Gal Salon-Chandler with high expectations, and the salon consistently strives to exceed them. They foster a warm and welcoming environment for clients and their families, ensuring a friendly atmosphere. With a guarantee to leave you with a smile, a beautiful appearance, and renewed energy, Guy and Gal Salon-Chandler is dedicated to providing a remarkable experience. Their team of dedicated and professional stylists ensures that you will have an unforgettable style.
Waxing

Spray Tan

Facial

Partial Highlight

Color

Cut

Women's Hair Cut & Men Services
Chante is amazing! I love my hair color and style by her! She did such great work, and I highly recommend setting an appointment with her! I have been here a couple of times to Guy and Gal, and LOVE my experience every time. The location is so cute and modern! I love the comfortable chairs, and the ambiance of the salon! Everything was great! Definitely setting up a regular visit, and know that anyone who goes here is in great hands! These ladies know what they're doing! Thanks Chante!!!!
I work with Chante who is extremely knowledgable and skilled. She knows all about her trade and knows how to do any look, whether it be classic looks or new, trendy looks. I love coming here and having her do my hair. Reasonable prices, too
Chante did a wonderful job on my hair. I definitely would recommend her. Thank you Chante
Facial Wax: $35
Brow Wax: $13
Blow Out: $30
Mon-Fri: 10am - 5pm
Sat: 9am - 6pm
Sun: Closed
Nearby Beauty Salons in Chandler: