Larry Donahue - LAW 4 SMALL BUSINESS
Larry Donahue is a highly experienced lawyer with 27 years of expertise in contracts, corporate transactions, internet law, and intellectual property. Larry Donahue - LAW 4 SMALL BUSINESS is one of the Three Best Rated® Business Lawyers in Albuquerque, NM.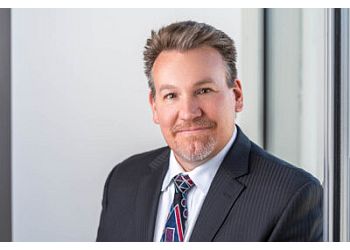 Beyond his legal background, Larry brings a wealth of knowledge as a seasoned high-tech business executive with experience in business growth and IT consultancy. As a partner at Law 4 Small Business, P.C., Larry is dedicated to providing prompt access to competent and effective business legal counsel. The firm specializes in assisting small companies in navigating and overcoming challenging issues. They also focus on supporting new entrepreneurs in launching their ventures and helping established businesses maintain a healthy and secure trajectory as they expand. With their dedicated team of business lawyers, Law 4 Small Business, P.C. tackles the complexities faced by small businesses, allowing owners to focus on their core operations. They customize their services to cater to the unique needs of each business, firmly believing that together, great achievements can be realized. The firm offers a no-obligation consultation and operates flat-rate, fixed-fee, ensuring transparency and predictability for its clients. Clients can have a thirty-minute consultation with a licensed attorney over the phone, Zoom, or Microsoft Teams, although in-person meetings are not permitted.
Limited Liability Company

Trademark Registration

Template Contracts

Enforce a Contract

Licensing

Settlement and Operating Agreement

Buy or Sell

Form a Corporation

Registered Agent Services

Collect a Debt

Negotiations

Contract Drafting and Creation

Standard Client Intake Forms & Register a Copyright
I just wanted to say how superior the service is with L4SB. Lauren has been very communicative and she has explained every step that I did not understand. If you're thinking on using them please don't hesitate. Worth every dollar. No hassle very clear and excellent professionals. Thank you for providing amazing services (FYI I was not even requested to leave a review I just wanted to share )
I have known Ian Alden and Joe Turner for years as colleagues. I refer all my business owning clients, questions, and cases to Ian and the Law 4 Small Business team. I would highly recommend Ian and Joe for any small business questions.
Larry Donahue and his team are extremely knowledgeable ... and patient with newbies like myself! It's been a transparent, fluid and pleasant experience working with L4SB to date. Highly recommend!
Bankruptcy (60 minute consultation) +$150.00
Cannabis +$76.00
Change Ownership +$26.00
Intellectual Property (Copyrights, Patents, Trademarks) +$50.00
Professional Licensure +$76.00
Taxes +$50.00
Mon-Fri: 6am - 11pm
Sat & Sun: 8am - 8pm

Nearby Business Lawyers in Albuquerque: