Anjum Ismail, MD - Siena Cardiology
Anjum Ismail, MD - Siena Cardiology is one of the Three Best Rated® Cardiologists in Henderson, NV.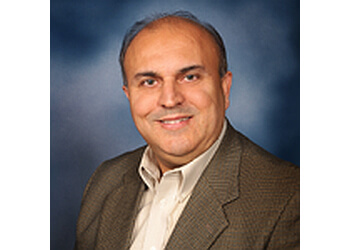 Dr. Anjum Ismail, a highly skilled cardiologist at Siena Cardiology, holds board certifications in internal medicine, cardiovascular disease, and interventional cardiology. He completed his medical degree at King Edward Medical College in 1988 and pursued residency training at Saint Barnabas Hospital. Subsequently, he completed his fellowship at the University of California At Irvine. Committed to delivering the highest standard of cardiac care, Dr. Anjum Ismail is dedicated to his patients' well-being. He is affiliated with St. Rose Dominican-San Martin, St. Rose Dominican-Rose de Lima, and St. Rose Dominican hospitals, ensuring comprehensive care for his patients. Dr. Ismail is proficient in multiple languages, including Punjabi, English, and Urdu, facilitating effective communication and personalized care for diverse patient needs. With his expertise and compassionate approach, patients can trust in Dr. Anjum Ismail's commitment to their heart health and overall well-being. With over three decades of experience and expertise in the field, Dr. Ismail brings a wealth of knowledge to his practice. He has served as a specialist in both cardiology and internal medicine across various environments. Additionally, he holds membership in the American Society of Nuclear Cardiology.
Chest Pain

Hypertension

Heart Attack

Vertigo

Catheter Ablation

Electrocardiogram

Stress Testing

Echocardiogram

Permanent Pacemaker

Cardiac Catheterization

Coronary Angioplasty

Heart Transplant

Valve Repair or Replacement

High Blood Pressure and Cholesterol

Arrhythmia

Tachycardia

Atherosclerosis

Congenital Disabilities

Cardiomyopathy

Heart Infection

Attack & Failure
I trust my life with Dr. Ismail! He has been taking excellent care of me for many years. He is knowledgeable, to the point, patient and truly caring. His nurse and office staff are well trained and attentive. His reception area is clean and a restroom available in the waiting room. Dr. Ismail only does needed tests and has performed hospital outpatient tests on me several times when symptoms indicated these were prudent to perform. I highly recommend Dr. Ismail.
It's always good to know you're in great hands. Dr. Ismail & his staff are wonderful! Friendly & efficient & on time unless there's been an emergency. I'd like to add that when he took care of my husband, he always knew what to do. He'd also make an amazing plastic surgeon. He did the most beautiful stitching for my husband's pacemaker, so impressive, an artist!
Dr was almost on time. Very pleasant and explained everything so I understood it all.Got back to me promptly on a situation.
Aetna, Affiliated Health Funds, Anthem, Anthem Blue Cross Blue Shield, Beech Street (Multiplan), Blue Cross Blue Shield, Blue Cross Blue Shield of California, CareFirst Blue Cross Blue Shield, Caremore Medical Group, Cigna, Coventry Health Care, First Health, Health Plan of Nevada, Humana, MultiPlan, Saint Francis Health Network, Sierra Choice, Triwest & UnitedHealthCare
Mon-Thu: 9am - 12pm
Fri-Sun: Closed
Nearby Cardiologists in Henderson: