Chandra R. Narala, MD, FACC - DESERT CARDIOLOGY & VASCULAR CENTER
Chandra R. Narala, MD, FACC - DESERT CARDIOLOGY & VASCULAR CENTER is one of the Three Best Rated® Cardiologists in Henderson, NV.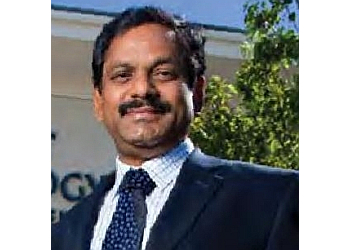 Dr. Chandra R. Narala is a highly knowledgeable and board-certified cardiologist who obtained his medical degree from Government Medical College, Kamatak University Bellary, India. With board certifications in Cardiovascular Disease and Interventional Cardiology, Dr. Narala completed his residency at St. John Hospital Detroit. He proudly holds the title of Diplomat in Cardiovascular Disease. Additionally, he is a member of esteemed organizations such as the American Board of Internal Medicine, Clark County Medical Society, and American College of Cardiology. Dr. Narala currently practices at Desert Cardiology & Vascular Center, a renowned institution dedicated to combatting coronary artery disease through expert diagnosis, treatment, and prevention. The center offers a comprehensive range of specialized services in heart care, including preventative cardiology, echocardiography, electrophysiology, interventional cardiology, and nuclear cardiology. At Desert Cardiology & Vascular Center, the focus is on empowering patients with knowledge and providing exceptional care to support their overall well-being. Dr. Narala and his team strive to ensure that their patients receive the highest level of expertise and attention, enabling them to lead healthier lives. Chandra R. Narala's office accepts new patients. Telehealth appointments are available.
Angioplasty with Stenting

Cardiac Catherization

Carotid Ultrasound

Catheter Ablation

Dobutamine Stress Echocardiogram

Doppler Imaging

Electrocardiogram

Electrophysiology

Exercise Stress Test

Holter Monitoring

Implantable Cardioverter Defibrillator

Nuclear Exercise Stress Test

Treadmill Stress Testing

Wellness & Preventive Health
Dr. Narala and his son Dr Karthiek Narala, are absolutely fantastic to see and work with! They are always willing to spend the time I need in our visits to address any issues or concerns I have. I had sleep apnea and they gave me a great treatment plan, offered many options and solutions to treat it. Fantastic care! Thank you!
Dr. Natalia Is a great doctor. A few members of my family have seen him. We love how caring & patient he is. Very knowledgeable & has no problem spending time with his patients until all questions are answered. We have always left his office with a clear understanding of the treatment plan. His staff is also very helpful & cordial. Great people, all of them.
He's been my heart doctor for several years and I cannot speak highly enough about him. His nurse practitioner Ara, is an absolute delight.
Aetna (HMO/POS/PPO), Anthem Blue Cross, Beech Street, Blue Cross Federal Program, Cigna, Coventry Health and Life, First Health, Great West, Horizon Health, Humana, Medicare, Medicaid, Nevada Preferred Professionals, Pacificare, PHCS, Saint Mary's Preferred Health, Silver Summit, South Point, Teachers Health Trust, TriWest, United Health Care & Universal Heath Network
Mon-Fri: 8:30am - 5pm
Sat & Sun: Closed
Nearby Cardiologists in Henderson: