Charles M.T. Jost, MD - SOUTHWEST CARDIOVASCULAR ASSOCIATES
Charles M.T. Jost, MD - SOUTHWEST CARDIOVASCULAR ASSOCIATES is one of the Three Best Rated® Cardiologists in Mesa, AZ.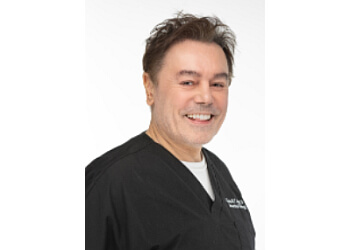 Dr. Charles M.T. Jost is a highly accomplished physician who holds board certifications in internal medicine and cardiovascular diseases from the esteemed American Board of Internal Medicine. He pursued his medical education at the distinguished University of Geneva, gaining a solid foundation for his successful career. Dr. Charles completed his internship and residency in internal medicine at Albert Einstein School of Medicine, further refining his skills and knowledge. To specialize in cardiology, he pursued a fellowship at the prestigious University of Texas. During his fellowship, Dr. Charles demonstrated exceptional expertise by successfully completing over 600 coronary angiographies and 350 PTCA's. As a principal interventional cardiology/vascular specialist, he has become recognized as one of the world's leading experts in Cardiac Laser procedures and serves as a spokesperson for Philips. Over the past five years alone, Dr. Charles has performed more than 5,000 procedures, adding to an impressive total of over 15,000 procedures since completing his fellowship in cardiology. Dr. Charles has made significant contributions to the medical field through his publications in international medical journals and his invitations to speak at prestigious international meetings. His wealth of knowledge and insights continue to benefit medical professionals worldwide. Currently, Dr. Charles practices in Mesa, where he attends to patients at his state-of-the-art clinic, equipped with the latest medical technologies. He is affiliated with Southwest Cardiovascular Associates, a renowned healthcare institution known for its commitment to excellence.
Peripheral Arterial Disease

Arterial Treatments

Coronary Interventions

Pacemaker Insertion

Deep Vein Thrombosis

IVC Filters

PFO Closure

Carotid Ultrasound

AAA Screening

Echocardiogram

Exercise Stress Test

Nuclear Treadmill Test & Event Monitor
I want to say something about this amazing doctor Dr. Jost he has kept me alive for longer than I deserve in 2001 he walked into my hospital room asked me if I wanted to live? I had heart failure only 15% of my heart ejection fraction was working and other things needed a heart transplant I was in my 20 know I'm 43 and still alive he has compassion for his patients he takes his work seriously he was the hands that my Lord Jesus Christ sent to me if you are looking for a heart doctor that will listen to your needs; fears; your loved one to put their life in a doctor that you can trust! Dr. Charles Jost is the one he also knows takes care of my husband that is diabetic and has circulation problems in his legs he has given him hope to keep his legs! As long as we can with a procedure to clean his veins that help him walk better ! I'm grateful for this doctor and his family for the time they give up so other lives can be saved through his hands! You can trust that he will do everything he can to take care of you and your family! My family my children are grateful to have there mom still. - CG
I had three procedures dune on my veins on three different times my doctor . Dr Charles M Jost his staff are the best . If you have to have test done you can have them done in his building . All the workers are so helpful and polite. I give them Five Stars.
I have been to dr Jost for several years and procedures due to pad and cardiac issues and he is very direct and intelligent and I prefer that instead of a fake doctor. The staff is very friendly and always greet me with a smile.
AARP, Aetna, Ameriben, American Republic, AmeriPlan, Anthem, Arizona Health Care Cost Containment System (AHCCCS), Arizona PHCS, AZ Foundation Medical Care (AZFMC), Bankers Life and Casualty, Bashas Benefit Trust, Beech Street (Multiplan), Blue Cross Blue Shield, Bridgeway Health Solutions, Care 1st Health Plan, CareFirst Blue Cross Blue Shield, CHAMPVA, Cigna, CorVel, Coventry Health Care, First Health, Fortified Provider Network & Golden Rule
Mon-Thu: 8am - 5pm
Fri: 8am - 4pm
Sat & Sun: Closed
Nearby Cardiologists in Mesa: