Edmund O. Fiksinski, MD - METHODIST PHYSICIANS CLINIC
Edmund O. Fiksinski, MD - METHODIST PHYSICIANS CLINIC is one of the Three Best Rated® Cardiologists in Omaha, NE.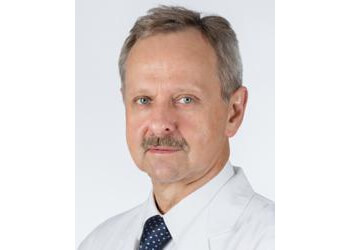 Dr. Edmund O. Fiksinski is a highly skilled interventional cardiologist who is double board certified in cardiovascular disease and interventional cardiology. He completed his medical education at Pomeranian Medical School and went on to accomplish his internship and residency at Veterans Health Services and Research. Dr. Fiksinski further advanced his expertise through a fellowship at Lahey Clinic. Dedicated to patient-centered care, Dr. Edmund O. Fiksinski actively listens to his patients, addressing their concerns and providing detailed explanations. With fluency in both English and Polish, he ensures effective communication with a diverse range of patients. Dr. Fiksinski welcomes new patients and is committed to delivering exceptional care. Currently, Dr. Edmund O. Fiksinski practices at Methodist Physicians Clinic, a reputable healthcare facility. In addition to his specialized field of interventional cardiology, the clinic boasts a team of board-certified pulmonologists who focus on diagnosing and treating various breathing problems, including allergies, emphysema, and respiratory infections. With their expertise and comprehensive approach, they provide effective solutions for respiratory health issues. Dr. Edmund O. Fiksinski and the esteemed medical professionals at Methodist Physicians Clinic are dedicated to delivering top-quality care to their patients.
Cardiac Ablations

Hypertension

Transesophageal Echocardiography

Congestive Heart Failure

Cardiac Catheterization

Pacemaker Implantation

Chest Pain Treatment & Atherosclerosis
I especially appreciated having the doctor explain the long term plan, what he would be looking for, why he was looking, and what options he wanted ME to consider. His review of my current status was careful, thorough, and consistent with our plan for my care. He left me with a feeling of long term optimism.
Dr. Fiksinski is a great heart doctor. I have used him for several years. He is quite thorough and listens very well. Highly recommended.
Great visit. Really appreciate Dr. Filsinski and concern he shows. He answered all my questions.
Aetna Behavioral Health, Aetna First Health, Aetna HPN NHN, Aetna Medicare Elite (PPO), Aetna Medicare Premier (HMO), Aetna Medicare Premier (PPO), Aetna Meritain, Aetna Signature Administrators, Aetna Workers' Compensation, Alliance NHN-First Choice Health TPA, Ambetter by NE Total Care, Amerigroup Iowa (Iowa Medicaid managed care plan), Blue Cross Blue Shield of Nebraska Medicare Advantage Access (PPO), Blue Cross Blue Shield of Nebraska Medicare Advantage Choice (HMO-POS) & Elite Choice
Mon-Fri: 8am - 5pm
Sat & Sun: Closed
Nearby Cardiologists in Omaha: