Haysam Akkad, MD, FACP, FACC, FSCAI - CLARKSON HEART CENTER
Haysam Akkad, MD, FACP, FACC, FSCAI - CLARKSON HEART CENTER is one of the Three Best Rated® Cardiologists in Omaha, NE.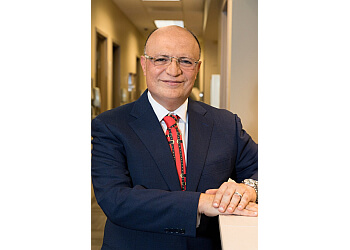 Dr. Haysam Akkad is a highly experienced interventional cardiologist with a remarkable career spanning over 32 years in the field of cardiology. He obtained his medical degree from the University of Aleppo Medical School in Syria. Dr. Akkad further honed his skills by completing an internal medicine residency at St. Francis Medical Center in Pittsburgh, followed by a cardiology fellowship at MCP/Hahnemann University. Board-certified in cardiovascular disease and interventional cardiology, Dr. Haysam Akkad brings a wealth of knowledge and expertise to his practice. He is certified by ABIM in cardiovascular disease and interventional cardiology. Currently, he practices at Clarkson Heart Center, a leading healthcare facility known for providing high-quality cardiac care services. The center is dedicated to offering comprehensive evaluation, treatment, and management of patients with heart disease. At Clarkson Heart Center, patients have access to a range of advanced diagnostic testing procedures to ensure accurate assessments and personalized treatment plans. The hospital is committed to delivering exceptional cardiac care, tailored to the unique needs of each patient. In addition to its outstanding services, Clarkson Heart Center also provides convenient amenities for patients. They offer free parking facilities located at the east of the building in the Purple parking lot, ensuring ease of access for patients and their families.
Nuclear Stress Testing

Myocardial Perfusion Imaging

Stress and Transthoracic Echocardiogram

24 Hour Holter Monitoring

Pacemaker and Defibrillator Implantation

Peripheral Arterial Disease Screening and Treatment

Cardiac Catheterization

Percutaneous Coronary Intervention

Pacemaker Implantation

Tilt Table Testing

Transesophageal Echocardiogram (TEE) & Loop Recorder Implantation
I seen Dr. Akkad because I was having heart pains after having Covid. I felt that he was thorough and quite experienced. I didn't feel rushed, he and his PA listened to my concerns and answered all my questions. They both were kind and upbeat. I would recommend his doctor for sure.
Dr Akkad as someone mention earlier has no tac whatsoever. But it comes from a good place as I have the opportunity see him take care of my mom and unfortunately now me he is often a since of strength for most you stay as you are best Dr I know.
This man is an angel on earth. He literally saved my life and has done the same for so many others. Best heart doctor.
Aetna, Anthem, Blue Cross Blue Shield, CareFirst Blue Cross Blue Shield, Cigna, First Health (Coventry Health Care), Humana, MultiPlan & Wellmark Blue Cross and Blue Shield
Mon-Fri: 7:45am - 5pm
Sat & Sun: Closed
Nearby Cardiologists in Omaha: