Kenneth J. Shah, MD - VASCULAR INSTITUTE OF SOUTHERN NEVADA
Meet Dr. Kenneth J. Shah, MD - VASCULAR INSTITUTE OF SOUTHERN NEVADA is one of the Three Best Rated® Cardiologists in Henderson, NV.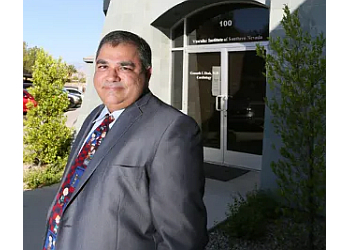 Kenneth J. Shah, one of Henderson's most esteemed cardiologists. He earned his medical degree from Universidad Iberoamericana, Santo Domingo, and subsequently completed his residency and fellowship at St. Vincent Hospital. In 1994, Dr. Shah underwent additional fellowship training at Rush/Christ Hospital. With an impressive 35-year experience in the field of cardiology, Dr. Kenneth J. Shah is board certified in Cardiovascular Disease, showcasing his expertise and commitment to exceptional patient care. He is currently affiliated with Valley Hospital Medical Center, St. Rose Dominican Hospital Rose De Lima Campus, and Desert Springs Hospital Medical Center. Dr. Shah's specialized areas include complex critical care, cardiology, vascular medicine, and prevention, making him an invaluable resource for patients with diverse cardiac needs. He is dedicated to welcoming new patients and also offers telehealth appointments, ensuring accessibility and convenience for his patients. Currently practicing at the Vascular Institute of Southern Nevada, Dr. Kenneth J. Shah continues to provide top-tier cardiac care to the Henderson community. His passion for his profession and commitment to patient well-being make him a trusted and sought-after cardiologist in the region.
Cardiac Tests

Blood Pressure

Rhythm Monitoring

Oxygen

Weight

Sleep

Heart Attack

Failure

EKG

Holter Monitoring

Event Recorders

Echo Heart Ultrasound

CTA Coronary

Treadmill Test

Enhanced External Counterpulsation Therapy (EECP)

Pacemakers & Loop Recorders
I personally HATE Dr's BUT.....Dr Shah is the real deal I was referred to him when making my appointment I was scheduled immediately and the staff told me Dr is very thorough so plan on being here about 3 to 4 hrs I arrived signed in and was called into the back within 30 mins had my tests done and he came and explained everything to me was not rushed he took his time going over all I needed which most Dr's are in and out in 5 mins... He seems to truly care about his patients and their quality of life Thank you Dr Shah I promise I will do what you have instructed.
I'm giving a rating on DR. Shah's knowledge and ability to medically help. Yes, you may need to wait in the waiting room, that's what it's for. It's only because when you sit down with Dr. Shah you are normally there from 30-60 minutes, face-to-face with him. How often does that happen with any other doctor? You can ask as many questions as you want and engage him in important details about your health. I personally find comfort in his abundance of knowledge. The guy knows what he's talking about! No, I do not enjoy waiting. I am a very impatient guy. However, I know that he will give me the same attention he is giving the person who is before me.
He seems very knowledgeable and has done more for me then other heart doctors last 13 yrs. I feel better and he answers all my questions
Aetna, Affiliated Health Funds, American Republic, Amerigroup (Wellpoint), Anthem, Anthem Blue Cross Blue Shield, Beech Street (Multiplan), Blue Cross Blue Shield, CareFirst Blue Cross Blue Shield,Caremore Medical Group, CareSource, Cigna, Commercial Insurance Company, Community Health Choice, Coventry Health Care, Culinary Health Fund, First Health (Coventry Health Care), Golden Rule, Health Net, HealthPlus, Amerigroup, Horizon Blue Cross Blue Shield of New Jersey & Humana
Mon-Fri: 7:30am - 5pm
Sat & Sun: Closed
Nearby Cardiologists in Henderson: