Peter D. McLeay, MD - HEARTLAND CARDIOLOGY PC
Peter D. McLeay, MD - HEARTLAND CARDIOLOGY PC is one of the Three Best Rated® Cardiologists in Omaha, NE.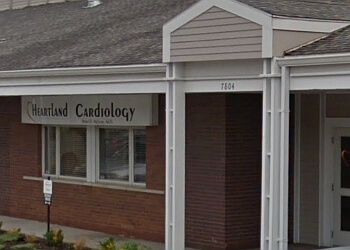 Dr. Peter D. McLeay is a highly regarded cardiologist practicing in Omaha, Nebraska. Recognized for his expertise and dedication, he is board-certified in interventional cardiology by the American Board of Internal Medicine. Dr. McLeay obtained his medical education from Kansas University Medical Center, followed by a residency at Creighton University Medical Center. He further specialized in cardiology through a fellowship at the University of Nebraska Medical Center. With a commitment to providing exceptional care, Dr. Peter D. McLeay is affiliated with esteemed medical institutions, including Chi Health Midlands, George C. Grape Community Hospital, Methodist Hospital, and The Nebraska Medical Center. These affiliations reflect his dedication to staying at the forefront of cardiology advancements and collaborating with top-notch healthcare teams. Dr. McLeay prioritizes effective communication with his patients, ensuring they fully understand their medical conditions and treatment options. He fluently communicates in English, fostering clear and comprehensive discussions. As one of the leading cardiologists in Omaha, Dr. Peter D. McLeay combines his extensive medical knowledge with a compassionate approach to deliver personalized care to his patients. His affiliations with renowned medical institutions further reinforce his commitment to providing excellent cardiology services.
Coronary Heart Disease

Atherosclerosis

Cardiac Arrhythmia

Angioplasty

Chest Pain Treatment

Cardiomyopathy & Angiography
I am only 24 had been from doctor to doctor trying to express my concerns for my heart problems. He was referred to me by a friend of mine who has been seeing him for years. A lot of doctors just prescribed me Xanax and sent me on my way. Dr. Mcleay was so attentive and listened to me and seemed to take my side in being concerned with my issues. I have my 2nd appointment with him soon which some family medical issues may help in figuring out and understanding my condition, as it is very rare, but I look forward to speaking with him again and hearing his input.
Dr. McLeay is a great physician. We first met about 20 years ago when he was my dad's cardiologist. Dad was in his mid-60s and not expected to make 70. Thanks to to wonderful care from Dr. McLeay and his staff Dad will celebrate his 85th birthday this fall I became a patient 10 years ago after a heart attack. He is caring, interested, involved and thorough. I feel like we're part of the Heartland Cardiology family.
Dr Mcleay ,is so wonderful ,my husband would not be alive today with out him , Cannot say enough wonderful words about him . Thank You Dr Mcleay for all you do to save your patients .
Aetna, Blue Cross and Blue Shield of Kansas, Blue Cross and Blue Shield of Nebraska, Blue Cross Blue Shield, Cigna, First Health, Humana, UnitedHealthCare & Wellmark Blue Cross and Blue Shield
Nearby Cardiologists in Omaha: