Dr. Derek T. Day, DC - ANTHEM CHIROPRACTIC
Dr. Derek T. Day, DC - ANTHEM CHIROPRACTIC is one of the Three Best Rated® Chiropractors in Henderson, NV.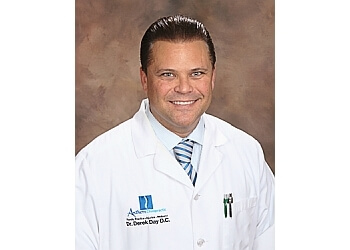 Dr. Derek T. Day, a highly trusted chiropractor in Henderson, Nevada, is recognized for his expertise in the field. He earned his Doctorate Degree from Life University in Atlanta. As the founder of Anthem Chiropractic, Dr. Derek specializes in providing injury care following accidents and boasts over 25 years of experience serving the Las Vegas and Henderson communities. His treatment offerings include chiropractic adjustments and decompression therapy. Dr. Derek's services cater to a wide range of concerns, including injuries, back pain, neck pain, and other sources of physical discomfort. He takes a personalized approach by developing individualized treatment plans that incorporate chiropractic treatments, lifestyle advice, and exercise programs tailored to the specific goals and current health conditions of each individual.
Back

Neck

Shoulder and Knee Pain

Personal

Auto Accident and Car Accident Injury

Headaches

Slipped Discs

Sprains and Injuries

Migraines

Head Conditions

Sciatica

Herniated Disc

Pinched Nerves

Whiplash

Pulled Muscles

Muscle Strains & Neck Conditions
Ive been going to Anthem chiropractic for about a year and they have helped me with my problems and im.feeling good and the staff is wonderful and Dr day and the other doctors are very caring Its a very good experience and lm happy with the outcome i feel much better and my back Is coming along as is my legs Thank you for all you do.
The staff is very courteous and friendly. They took the time to listen to my concerns and walked me through some movements to help diagnose my condition. The treatment and adjustment went very well and they were able to align my spine so that my discomfort and pain was alleviated. I will be going back for all my chiropractic needs.
Started treatments from an accident. They also do private service. So this time i went in for adjustment as my insurance plan covers. Thier service is too notch and doc day and his assistant are great at their profession. I feel so much better this week.
Workers' Compensation, Medicare, Specific Medicaid Plans, Blue Cross Blue Shield, Cigna, Humana, & United Healthcare
Mon-Thu: 8am - 6pm
Fri: 8:30am - 2pm
Sat & Sun: Closed
Nearby Chiropractors in Henderson: