Dr. Jason Jaeger, DC, FCBP - ADVANCED SPINE AND POSTURE
Dr. Jason Jaeger, DC, FCBP - ADVANCED SPINE AND POSTURE is one of the Three Best Rated® Chiropractors in Las Vegas, NV.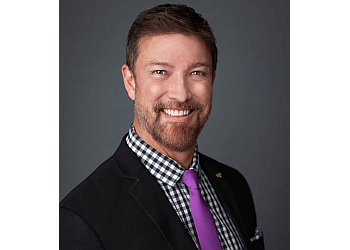 Dr. Jason Jaeger, a highly experienced chiropractor in the Las Vegas area, holds a prominent position as the Administrative Director at Advanced Spine and Posture. This renowned practice is recognized as a leading provider of integrated physical medicine in Nevada. Dr. Jason is licensed to practice chiropractic in Nevada, Arizona, and California, allowing him to serve a broad range of patients across the region. With a focus on addressing conditions related to poor posture and spinal misalignments, Dr. Jason Jaeger utilizes specialized exercises, traction, and adjustments to realign the spine and provide relief effectively. As a distinguished professional in his field, Dr. Jason is also an accomplished speaker who has delivered lectures on spinal biomechanics across the United States, Europe, and Australia. His extensive knowledge and experience have even led to publications in the peer-reviewed literature on clinical biomechanics, further solidifying his standing as an expert in the field. Dr. Jason Jaeger practices at Advanced Spine and Posture. At Advanced Spine and Posture, new patients are welcomed with complimentary initial consultations. This opportunity allows individuals to discuss their concerns and explore potential treatment options without any financial commitment. The clinic has advanced diagnostic facilities, including X-ray, NCV (nerve conduction velocity) tests, and EMG (electromyography), enabling precise and accurate assessments to inform the most effective treatment plans.
Back

Shoulder

Joint and Neck Pain

Headaches

Migraines

Fatigue

Fibromyalgia

High Blood Pressure

Poor Posture

Scoliosis

Acid Reflux/GERD

Asthma/Difficulty Breathing

Allergies/Sinusitis

Disc Herniation

Plantar Fasciitis

Auto Accidents

Sports Injuries

Workplace Slip & Fall
In dealing with a low back injury for over 30 years, I've never run across a team more competent and open-minded. Not oly do they offer proven techniques, but they also work as a team to continue research and seek out the most beneficial treatments to obtain the best results possible. As true healers they work with some of the finest surgeons should it be required. In just two months they were able to provide relief I had not believed possible without surgery. Truly amazing.
This group of people are very personable, they take the time to address people's needs indivually and genuinely seem to care. I would recommend the Advanced spine and posture on north decatur for all your chiropractic needs.
Pinch me; this place is a dream! Providers who quite evidently CARE and front office staff who are so on top of things, it's almost unbelievable. The facility and equipment are impressive. Congratulations to those who run this place, you have a winning team. It's more than just refreshing, for us, this place is a miracle! If you're fortunate enough to have found this business, don't miss the opportunity to see them.
Mon,Wed & Fri: 9am - 6pm
Tue & Thu: 2pm - 6pm
Sat & Sun: Closed

Nearby Chiropractors in Las Vegas: