Dr. Ron Russeau, DC - The Joint Chiropractic
Dr. Ron Russeau, DC - The Joint Chiropractic is one of the Three Best Rated® Chiropractors in Las Vegas, NV.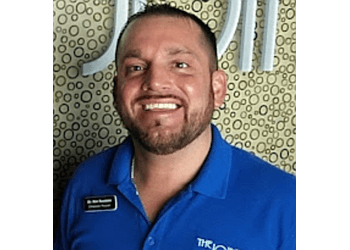 Dr. Ron Russeau is a highly esteemed chiropractor based in Las Vegas, well-known for his expertise in the field. He obtained his Doctor of Chiropractic degree from Sherman College of Chiropractic, which has provided him with a solid foundation in chiropractic care. With a strong background in family chiropractic, Dr. Ron understands the unique needs and concerns of patients of all ages. He believes in practicing what he preaches and sets an example for his patients by prioritizing his own health and well-being. In addition to providing chiropractic treatments, Dr. Ron also offers valuable guidance on maintaining good health through proper nutrition and exercise. Dr. Ron is committed to making personalized care accessible and affordable for his patients. He believes that everyone deserves quality chiropractic care and works closely with individuals to create personalized care plans that suit their specific needs and budget. Dr. Ron Russeau practices at The Joint Chiropractic, a comprehensive destination for all your chiropractic needs. Whether you require routine adjustments, treatment for specific conditions, or preventive care, they provide a wide range of services to cater to various chiropractic needs.
Elbow

Neck

Shoulder

Knee

Foot

Ankle

Lower and Upper Back Pain

Sciatica

Subluxation

Misalignment of the Spine

Migraine and Tension Headaches

Fibromyalgia & Chronic Injuries
Such a cute, well-managed place! The Wellness Coordinator Emma took great care of me, and was professional and balanced the clients coming and going very well. Dr. Russeau also gave a great adjustment and was very professional as well!
Was really nervous about going to a chiropractor but Dr Russeau explained how everything was going to work. The receptionist Emma was nice and helpful definitely going back.
I've never been to a chiropractor in my life and I was scared to death. My treatment was painless. They explained ever step to me. The staff and doctors are wonderful.
Initial Visit Includes Consultation, Exam & Adjustment $29
Mon-Fri: 10am - 2pm| 2:45pm - 7pm
Sat & Sun: 10am - 4pm
Nearby Chiropractors in Las Vegas: