Computer Renaissance
Computer Renaissance has been providing computer repair services for over twenty-five years. Computer Renaissance is one of the Three Best Rated® Computer Repair in Anchorage, AK.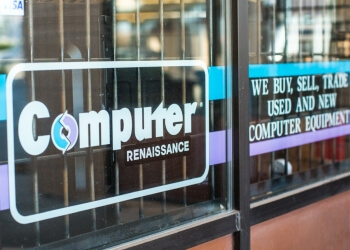 The shop has A+ certified technicians and an expert staff ready to answer any question you have. From pre-configured systems to completely customized computers, Computer Renaissance has what you're looking for. Computer Renaissance becomes the clear choice for all of your computer needs. Their team uses the latest technology methods during their services. They integrated custom-built computers and state-of-the-art repair services to become your one-stop shop for all of your computer needs. They can fix any make and model of laptop computers to the motherboard and IC chip level. At Computer Renaissance, they have solutions for small and medium businesses, too. Computer Renaissance also repairs Apple products, including iPhones, iPods, and iPads. And to round things out, they offer repairs of gaming consoles, too. Computer Renaissance also provides new and refurbished computers for sale.
Data Back-Up

Recovery

Custom Built Computers and Laptops

Refurbished Computers

Laptop Lcd

Motherboard Replacement

Network Configuration

and Complete Network Installation

Virus and Spyware Removal

Software

Computer

Memory Upgrades

Hard Drive Replacements & Operating System Reinstallation
Had an issue with my HP laptop not finding the wireless at all at home. After time spent with HP assistance, they determined the wireless card had failed and needed to be replaced. They shipped me a new card at no charge because of warrantee but I ended up not feeling comfortable replacing it myself. After calling two big chain places and not getting through to a human being, I did a search and found this place. A human answered on the 2nd ring and said they could help me with the issue and to just come by. I did. James went through the system checking some things and long story short, ended up fixing it without having to replace the wireless card. He was very friendly and thorough and gave some suggestions and recommendations. And it was all very affordable. Glad I found them and I highly recommend this place to assist you with your tech issues when they come up.
Genuinely great group of guys that obviously have a lot of experience and are efficient, the gentleman helping me helped install all my software with me only asking help for windows WHILE WORKING ON A PC he also fixed my wiring that I plugged in wrong. These guys are great know what they are doing and are very friendly there should be no debate on where to go for pc related stuff.
I'm usually hesitant when going to get my computer repaired due to poor previous experiences. However my experience with Perry was exceptional, he was courteous and professional the entire time. If you need to repair or diagnose an issue with your computer. This store is your best bet.
Mon-Sat: 10am - 7pm
Sun: Closed
Other Computer Repair in Anchorage: