iGeek Tech Repair
iGeek Tech Repair is one of the expert Laptop and computer repair shops in Elk Grove, California. iGeek Tech Repair is one of the Three Best Rated® Computer Repair in Elk Grove, CA.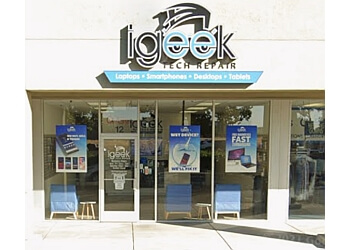 The shop has more than 12 years of experience in this computer repair business. The shop has modern equipment to handle all repairs. The tech team specializes in virus removal, PC tune-ups, data transfers, hardware replacement, software upgrades, and blue screen error services. Customer satisfaction is their number one priority. They deal with customers all over Sacramento county and repair thousands of electronic devices monthly. Their team offers quality repair at an unbeatable price and ensures to exceed customer expectations. They have a direct relationship with each customer, never leaving you with confusion about when your device will be repaired or returned. Their computer repair in Elk Grove, CA is fast, safe, and with unbeatable prices, you'll get back on track in no time. They also offer a warranty for your device. In addition, the shop provides free diagnosis and estimates.
Hardware and Software Problems

Virus Removal

Networking

Tune-Up

Back Frame

Button

and Switch

Charging Port. Digitizer

Data Recovery

Glass Screen

Headphone Jack

LCD

Mobile Phone

Microphone

Water Damage

Camera

System Failure and Blue Screen Repair & Battery Replacement
If you haven't tried these guys yet, you're missing out. My computer died with all my precious pictures in it. They were able to recover all my documents and thousands of pictures for me for a very reasonable price. I highly recommend this awesome company. Just compare before you go with another company. You'll be pleasantly surprised and impressed. Nice guys too! Thank you so much!
I cannot give iGeek and their staff enough praise. We had a pretty much dead back up hard drive sitting for nearly 10 years. They were able boot it up and back up our precious memories. Their staff is so friendly and ready to help! Highly recommend to anyone needing computer, phone or IT help.
I've been using iGeek Tech Repair for all my devices for several years now and I can truly say they solved every problem quickly & efficiently. Not only are they very tech savvy but also very friendly and they won't insult your intelligence. They are reasonably priced and I highly recommend them. Great people, I highly recommend!
Mon-Sat: 9am - 7pm
Sun: Closed
Nearby Computer Repair in Elk Grove: