Phill's Ballroom Dance Studio
Phill's Ballroom Dance Studio is one of Orange's oldest and most significant dance schools. Phill's Ballroom Dance Studio is one of the Three Best Rated® Dance Schools in Orange, CA.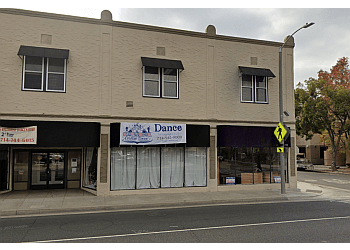 Phill's Ballroom Dance Studio has been an integral part of the Orange community for over 55 years, led by its owner and head instructor Phill Lowers. Phill is a highly trained and experienced dance teacher, having graduated from a teacher-training program with one of the world's leading chain studios. They boast state-of-the-art and cutting-edge amenities, including roomy dance studios, designated performance spaces, and other essential resources to facilitate optimal dance education. The dance school provides private and group dance lesson programs covering all styles of social dance. Their team of instructors are graduates of a professional dance teacher program and receive ongoing training to ensure the highest level of instruction. In addition to social dance classes, Phill's Ballroom Dance Studio also offers Wedding Dance programs and a Zumba class.
Foxtrot

Waltz

Tango

Peabody

Salsa

Cumbia

Merengue

Cha-Cha

Rumba

Samba

East Coast

West Coast

All Rhythms

Lindy Hop

Nightclub

Hustle

Slow

Country

2-Step

Night Club Latin

Swing

Social

Ballroom

Wedding Dance Programs & Zumba Fitness
Phill is an excellent dance instructor and his studio provides a warm and comfortable environment in which to learn how to dance. However, it is really so much more than that. Phill loves to dance. It brings him joy. New students may start out nervous, anxious, scared (that was me), but in a relatively short time they're looking forward to the next time they can take to the dance floor. There are other dance studios in Orange County, but none like Phill's … Phill is the best, his other teachers are great, and the student body is just a wonderful group of people … you will be welcomed with open arms and lots of encouragement
We love the why Phil teaches!!! He is patience, kind, and an excellent teacher!!! "The Best ",and we took dance at a different studio before and didn't learn near as well as we did from Phil. We have learned the Foxtrot, East Coast Swing and are now learning the Waltz than the Cha-Cha and on and on~~~Thank you Phil !!!
Phill has been a private dance instructor of my family since March 2010. I am very confident to say that Phill is an excellent dance instructor. He is a very experienced teacher. He also is patient with new beginner students and always on time. After three months of learning, my wife and I are able to dance socially with our confidence. Moreover, Phill gave us a very solid knowledge about dancing that will help us to continue to improve our dance technique. In summary, Phill is an expert with high integrity person. I am very confident and happy to recommend Phill to anyone who wants to learn how to dance.
Other Dance Schools in Orange: