Curtis W. Daugherty - THE LAW OFFICE OF CURTIS W. DAUGHERTY, PC
Curtis W. Curtis W. Daugherty - THE LAW OFFICE OF CURTIS W. DAUGHERTY, PC is one of the Three Best Rated® Divorce Lawyers in Visalia, CA.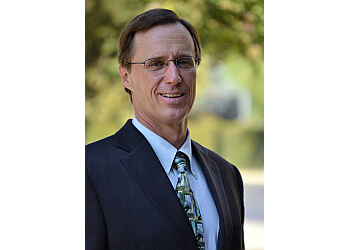 Daugherty began his legal profession in 1998 after earning his law degree from San Joaquin College of Law, initially working as a paralegal. Curtis possesses unique qualifications that enable him to promptly and cost-effectively address your legal concerns. With his extensive knowledge and skills, he is well-equipped to assist you in achieving your goals most efficiently and cost-effectively as possible. Curtis strongly emphasizes informal resolution methods, prioritizing their use over litigation due to their faster, more cost-effective, and often more successful outcomes. With over 18 years of legal expertise, Curtis W. Daugherty, PC, offers proficient legal advice and assistance in family law matters. They will thoroughly analyze and research your specific challenges, crafting the optimal solution to ensure the best possible outcome for you and your family. Take the first step in addressing your legal issue by contacting them today and benefiting from the guidance of a skilled attorney.
Family Law including: Divorce

Legal Separation

Child Custody and Visitation

Child Support

Spousal Support

Division

of: Community Property

Separate Property

Retirement Accounts

Pensions

Bonuses

Rental Income

Marital Debt

Separate Property Debt and all things family law because Family Law is all they do.
Curtis and Jackie are a very proven effective team for my divorce case, we re-open a case and Jackie worked into the details of my past divorce judgment and Curtis really presented to judge I deserved half of everything from my ex-wife, I've always thought the woman gets everything in the state of California! They overturned my past judgment around and the judge ( a honorable woman) BTW, really saw right through my ex wife that's it's all about the money in her eyes, Curtis nailed my ex coffin when it comes to details! Curtis gave us (MEN) a fighter chance to a system that predominantly a woman's judgment
I highly recommend Curtis Daugherty for legal representation! He handled my case very professionally and aggressively as needed. I am very grateful for his counseling and advise as it resulted in a successful outcome with visitation and child support issues. I am now able to have a closer relationship with my daughter and she has been able to voice her feelings about wanting a stronger relationship with me. My daughter and I couldn't have made it through this hearing without his help. I will definitely call the law office of Curtis Daugherty for any need of legal assistance. A true caring and understanding attorney!
I highly recommend the Law Office of Curtis W Daugherty. He helped my sister quickly get a defense ready with hardly any time to spare. His assistant was friendly, polite, and answered all the questions we had. They helped my sister prepare and organize. He stood with my sister and I the whole time on the court date, comforting and giving us all peace of mind and encouragement. He showed up well ahead of time, well prepared, and I don't think my sister could have asked for a better law firm to help her get through her divorce. Thank you very much Curtis Daugherty!
Mon-Thu: 8am - 5pm
Fri: 8am - 12pm
Sat & Sun: By Appointment
Nearby Divorce Lawyers in Visalia: