Derby City Critter Sitters
Derby City Critter Sitters is a reputable company that offers reliable services for pet sitting and dog walking. Derby City Critter Sitters is one of the Three Best Rated® Dog Walkers in Louisville, KY.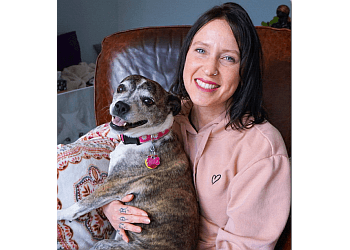 The company holds a valid license and is fully insured. Vivian Borders, the owner, has a lifelong experience with various dog breeds like German Shepherds, Pit Bulls, and mixed breeds. She has dedicated her life to advocating for Pit Bulls and assisting friends and family with their pets. Vivian has established her pet sitting brand on the foundation of delivering peace of mind to all pet owners through top-notch in-home services. The team of dog walkers employed by Derby City Critter Sitters is known for their friendliness, energy, and professionalism. Vivian and her trustworthy team of sitters are committed to providing a worry-free experience for your pets. They prioritize exercise, fun, and attentive care for your beloved animals. The company's mission is to treat every dog as if it were their own. All their sitters are trained in CPR, first aid, and B.A.R.K training to ensure the safety and well-being of your pets. Derby City Critter Sitters has implemented several important policies to ensure the safety and care of both your pet and their sitters. It is crucial to carefully review these policies. Their focus is on delivering reliable services that meet the requirements of both the pet owners and their cherished animals. They understand that every pet is unique and offer personalized services tailored to your specific needs. In addition to serving Louisville, Derby City Critter Sitters also extends their services to the surrounding cities.
Potty Break

30

45 Minute Dog Walking

Pet and Critter Sitting

and Overnight Services

Reptile Sitting & Puppy Playtime
We were in Louisville for just under a week and needed 3 walks per day for our 13 year old French Bulldog. Derby City was so professional right from the start. We met the whole team on a zoom call. They have all the right insurance, etc. Everyone treated our special furry baby like their own. She had so much fun and waited with excitement for them to come. I highly recommend using this service.
I have been using Derby City Critter Sitters for over 2 years as I travel for my job. Vivian and her team take extra special care of my two older dogs. I choose the Triple Crown Service (30 minutes each visit) and my regular sitter Brandon comes to the house twice a day. He walks, feeds and loves on them each visit. I get an email with an update and photos every time he visits. Derby City Critter Sitters is always professional, and I trust them explicitly! Highly recommended!!
Vivian and Emily, thank you so much for caring so well for Maggie and Vinny. We were completely relaxed that they were in your capable hands and we were able to enjoy our reunion weekend without worry. Your systems make the whole process a smooth one and we could not offer any higher praise and enthusiastic recommendation. Great job!
Dog Walk $30
Potty Break $20
Cats & Critters $30
Overnight Pet Sitting starting at $120
Triple Crown Vacation Sitting $105
Hotel Pet Sitting starting at $40
Mon-Fri: 10am - 6pm
Sat & Sun: Closed
Other Dog Walkers in Louisville: