Quang T. Nguyen, DO, FACE, FTOS - Las Vegas Endocrinology
Quang T. Nguyen, DO, FACE, FTOS - Las Vegas Endocrinology is one of the Three Best Rated® Endocrinologists in Henderson, NV.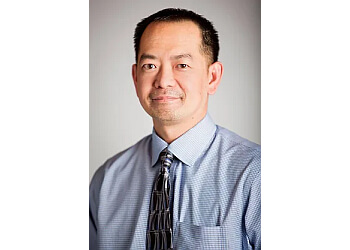 Dr. Quang T. Nguyen, a highly qualified medical professional, holds board certifications in Internal Medicine, Hypertension, Obesity and Endocrinology, Diabetes, and Metabolism. He successfully completed his medical degree at the University of Arizona College of Medicine. Dr. Quang's areas of expertise and special interest include the treatment of diabetes, hypertension, metabolic syndrome, nutrition, obesity, and more. He is an esteemed member of prestigious organizations such as the American College of Physicians, the American Association of Clinical Endocrinologists, and The Obesity Society. Dr. Quang has contributed significantly to medical research, boasting numerous publications to his name. He practices at Las Vegas Endocrinology, located in Henderson, NV, where he provides exceptional care to his patients.
Hypothyroidism

Cushing's

Metabolic Syndrome

Pituitary Disease

Hypertension

Continuous Glucose Monitor System/Insulin Pumps

Adrenal Gland

Hormonal Disorders (Low Testosterone

PCOS)

Nutrition

Hyperparathyroidism

Thyroid Disease

Hyperthyroidism & Osteoporosis
I use to live in Las Vegas several years ago, where I originally met Dr. Nguyen. I have type I diabetes and was not well controlled. Dr. Nguyen was very thorough and listened to my concerns and my previous treatment plan. He was confident that he could get me in control in a matter of months. In less than 2 months, my insulin intake was down, my diet was tweaked, and my thyroid was back to normal. I moved from Las Vegas to Arizona where I continued to see Dr. Nguyen via telemedicine. Fast forward 3 years and I am now living in South Carolina and still "seeing" Dr. Nguyen via telemedicine. Finding an Endo who you can trust and who knows your history and understands your challenges is invaluable. I have had diabetes for 33+ years and thanks to Dr. Nguyen and his care over the past 5 years, he has helped stave off any diabetes related complications. I highly recommend Dr. Nguyen for any of your endocrine needs.
The entire staff was courteous and welcoming. Dr Nguyen carefully explained my condition and ensured I understood his analysis. He talked with me not at me. I would definitely recommend him.
After seeing a couple other Vegas Doctors, he is an excellent Doctor who listens, and explains your condition to you. Can not say enough good things about him. Highly recommend.
Patients Choice Award since 2008
Aetna (need referral), Anthem Medicaid (need referral), Cigna, Culinary, HPN Medicaid (need referral), Humana PPO, Medicaid, Medicare, Molina Healthcare, Multiplan, Prominence, Sierra Healthcare Options, Silver Summit, TriWest (need referral) & UHC/UMR
Mon-Thu: 7am - 6pm
Fri: 8am - 5pm
Sat & Sun: Closed
Nearby Endocrinologists in Henderson: