Sanaa Ayyoub, MD - DARTMOUTH HITCHCOCK CLINICS MANCHESTER
Sanaa Ayyoub, MD - DARTMOUTH HITCHCOCK CLINICS MANCHESTER is one of the Three Best Rated® Endocrinologists in Manchester, NH.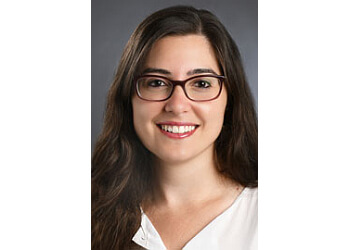 Dr. Sanaa Ayyoub holds board certification in Endocrinology, Diabetes, and Metabolism, showcasing her expertise in the field. She obtained her medical degree from the Jordan University of Science and Technology in Irbid, Jordan. Continuing her education, she pursued a fellowship in Endocrinology at the University of Massachusetts Medical School in Worcester, MA. With a special interest in treating conditions such as Diabetes mellitus, Adrenal disease, and Pituitary disease, among others, Dr. Sanaa Ayyoub is dedicated to providing comprehensive care to her patients. Fluent in both Arabic and English, she ensures effective communication and understanding throughout the treatment process. Committed to delivering evidence-based and personalized care, Dr. Sanaa Ayyoub strives to stay up to date with the latest advancements in the field. She is currently affiliated with Dartmouth-Hitchcock, where she practices medicine and continues to make a positive impact on her patients' lives.
Thyroid Disease Diabetes Mellitus Calcium and Bone Disorders Pituitary & Adrenal Disease
Dr Ayyoub is wonderful! I am so grateful that she is my endocrinologist
I wish Dr. Ayyoub could be my primary care physician. She is wonderful and a pleasure to visit.
A very knowledgeable & courteous doctor - not in a hurry.
Nearby Endocrinologists in Manchester: