Browns Mill Golf Course
Browns Mill Golf Course is a popular public golf course located in Atlanta, Georgia. Browns Mill Golf Course is one of the Three Best Rated® Golf Courses in Atlanta, GA.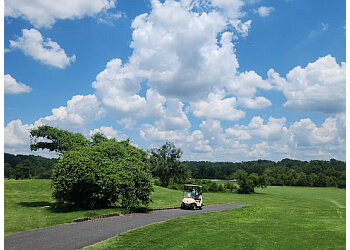 The course boasts 18 holes, each with a par of 72 and a length of 6539 yards at slope 123. The course offers stunning views and challenging games suitable for golfers of all experience levels. The recently renovated clubhouse includes a food preparation station, meeting rooms, and an excellent course view. Browns Mill Golf Course is an excellent option for daily rounds of golf, with free walking offered after 6 pm every day at their 18-hole locations. They also provide free variety balls to enhance your golf experience. The course is known for its well-manicured greens and fairways, making it a favorite among golf enthusiasts in Atlanta. Whether you are a seasoned pro or a beginner, Browns Mill Golf Course is a great place to play golf and enjoy the beautiful surroundings. Browns Mill Golf Course is located just five miles from Atlanta Hartfield-Jackson International Airport.
18-Hole Course

Food Preparation Station

Private Lessons

Driving Range

Putting Greens

Instructions

Membership

Practice Facility

Social Events

Junior Club

Tee Times

Club House Facilities

Dining

Tournaments & Room for Meetings
It is a great course!!!! I am very impressed with this golf course 18 holes in good condition, spectacular views and friendly people.
Great maintenance every sight. Beautiful autumn view. Enjoyed. Thanks for staffs.
My favorite municipal golf course in Atlanta. Great course, friendly staff, many options.
GREEN FEES (Monday-Thursday):
Resident Regular: $23.50
Non-Resident Regular: $28
Resident Senior (55+): $9.40
Non-Resident Senior (55+): $11
Resident Junior (18-): $13.50
Non-Resident Junior (18-): $14.50
Resident Twilight: $23.50 (Includes Cart)
Non-Resident Twilight: $29.50 (Includes Cart)
Super Twilight: $19.25 (Includes Cart)
Power Cart Fee: (per person) $13.50
Green Fees Friday-Sunday & Holidays:
Resident Regular: $26.50
Non-Resident Regular: $32
Resident Senior (55+): $15
Non-Resident Senior (55+): $16
Resident Junior (18-): $15.50
Non-Resident Junior (18-): $16.75
Resident Twilight: $28 (Includes Cart)
Non-Resident Twilight: $31.50 (Includes Cart)
Super Twilight: $19.25 (Includes Cart)
Power Cart Fee (per person): $13.50
Nearby Golf Courses in Atlanta: