Daryl Takeno - MIGRATION COUNSEL
Daryl Takeno is a seasoned immigration attorney with a Juris Doctor (JD) degree from the William S. Daryl Takeno - MIGRATION COUNSEL is one of the Three Best Rated® Immigration Lawyers in Honolulu, HI.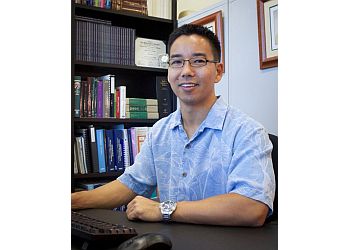 Richardson School of Law. During his time at the school, he held the position of Co-Editor-in-Chief for the Asian-Pacific Law & Policy Journal, showcasing his dedication to the field. Daryl's passion lies in advocating for the rights of immigrants, and he actively collaborates with other immigration attorneys to enhance the standards of the legal profession in this area. Prior to his legal career, he spent several years in the public relations department of an electronics company based in Tokyo, an experience that he leverages to effectively assist Japanese clients with their U.S. immigration matters. He is fluent in both English and Japanese. Migration Counsel, located in Honolulu, Hawaii, is a well-established and reputable law firm. Their team of lawyers boasts more than two decades of experience, providing expert guidance in various immigration cases. Whether you're seeking assistance with obtaining a green card, bringing essential employees to the country, or pursuing naturalized citizenship, you can rely on them to offer well-informed advice tailored to your specific needs. Through their Migration Monday program, the firm offers people the chance to ask their immigration and visa questions at no charge on the first Monday of each month.
Immigrant Visas

Adjustment of Status

Fiancé/Fiancée Visas

Employment-Based Immigration

E-2 Business Investors

H-1B Employers

Spouse Immigrant Visa

Same-Sex Marriages

Marriage Resources

U.S. Naturalization Process

Citizenship & Family Visas
We went to see Daryl at the Migration Counsel for assistance with my wife's immigration. We were somewhat aware of the forms that needed to be filled out and the process of immigration. But after going to the Migration Counsel, I can say that I'm glad we got their assistance. Not only did Migration Counsel complete the necessary forms and were expedient in its delivery, they provided proof of our relationship with dates in an organized manner that helped strengthen our case. In addition, when we needed to reschedule our interview, they willingly did so on our behalf. And when it was time to take the test at the end, they provided a study guide that helped us prepare and met with us to make sure we were ready. For our interviews, Daryl was present with us or my wife. All the whole time, Daryl and his paralegal Jane were responsive, courteous, and professional. I cannot say enough how glad we were to have gone to them.
Came to Daryl looking for advice on my H1B visa and options going forward with transfer and renewal. He was incredibly knowledgeable, clear and compassionate and really helped with my situation, providing me with information about LCAs and competitive recruitment. Would not hesitate to consult or hire Daryl again, a great experience overall.
Migration Counsel team was very reliable throughout my green card application process. Shout out to Daryl and Migration Counsel team members for their amazing work! If you are looking for competent lawyer for your immigration case, this is the right company for you.
Mon-Fri: 9am - 5pm
Sat & Sun: Closed
Nearby Immigration Lawyers in Honolulu: