Law Offices of Jay R. Tioleco
Jay R. Law Offices of Jay R. Tioleco is one of the Three Best Rated® Immigration Lawyers in Santa Clarita, CA.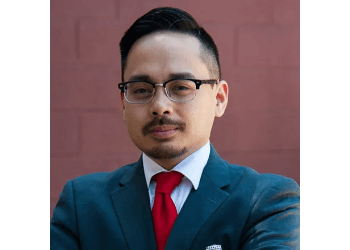 Tioleco is an accomplished immigration lawyer known for his impressive track record of achieving favorable immigration outcomes promptly. He is licensed to practice state law in California and Missouri and federal law, including immigration law, across the United States. With extensive experience working in countries such as England, Portugal, the Philippines, and China, Jay brings valuable insights into immigration and international business matters. The Law Offices of Jay R. Tioleco are committed to addressing all aspects of your immigration concerns. Their wealth of knowledge and expertise will guide you through entering and staying in the United States, should you desire. Regardless of the size or complexity of your case, they possess the skills and experience to effectively handle your legal matters and provide personalized representation tailored to your specific needs. Schedule a consultation with them today to take the first step toward resolving your immigration issues.
Family Visas

Adjustment of Status

Green Cards

Temporary and Permanent Visas

Citizenship & Immigration Business Compliance
My husband's citizenship was denied due to a criminal record from over 30 years ago. We chose Jay as our attorney to help us. We were blown away by his exceptional work and unwavering dedication to our case. Jay went above and beyond to ensure that my husband's appeal was successful, and we couldn't be more grateful for his hard work. It's clear that Jay is not only an amazing attorney, but also a Godsend. Jay's down-to-earth demeanor makes him approachable and easy to talk to, and we trust him completely. If you're looking for an attorney who can get the job done, look no further than Jay. We wholeheartedly recommend him without reservation. My husband received his citizenship and we are forever grateful for all his help.
If you ever need an attorney for immigration or Business look no more. Jay is such an excellent, hands on attorney. From the first moment you meet him he explains you every single step of your case , and represents you all the way from beginning to the end. He is always available on the phone or via email. He is an excellent attorney, professional, friendly and very knowledgeable. It was such a great experience working with Jay in my immigration case because he made it very easy and stress free. I definitely recommend Jay as an attorney. He is very good at what he does. You won't regret hiring him as your attorney to represent you if you ever need an excellent attorney.
I heard so many "Immigration stories" from my circle of friends that left me confused. Jay was able to cut through the smoke, and was a guide through the entire process; taking out all the worry and stress; answering all my questions in a timely manner. Most importantly, he stayed up to date on all the changing requirements and twists and turns of the immigration service. Mission accomplished! THANK YOU, Jay, for a job well done!
Nearby Immigration Lawyers in Santa Clarita: