Reza Mazaheri - Sethi & Mazaheri, LLC
Reza Mazaheri is the founding partner of Sethi & Mazaheri, LLC, and holds a JD from Seton Hall Univ. Reza Mazaheri - Sethi & Mazaheri, LLC is one of the Three Best Rated® Immigration Lawyers in Jersey City, NJ.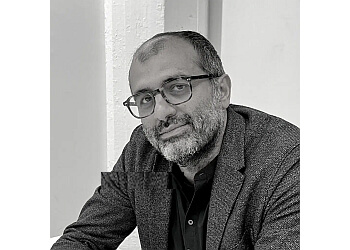 School of Law. His primary focus is on representing individuals in immigration matters within New Jersey. With recent experience as an NJ prosecutor, Reza brings valuable trial and litigation expertise in criminal cases, including appeals and domestic violence matters. He is dedicated to providing exceptional, tailored representation to individuals seeking legal status in the United States. Sethi & Mazaheri, LLC is a well-known immigration law firm that strongly advocates for the unrestricted movement of people across borders. They operate from three offices located in New York, New Jersey, and the DC Metro area. The firm takes pride in offering comprehensive and highly professional immigration representation at fair rates. Their commitment lies in safeguarding your rights and treating your case with the utmost personal attention it deserves. They attentively listen to your concerns and promptly identify resolutions by conducting thorough analyses of the immigration laws.
Employment Visas: H-1B

EB-2

EB-4

L1

J-1

J-1 for Physicians

Talent-Based Visas: O

O-1 Entertainment

O-1a

O-1Bfor Artists

P

P-1 Visa

P-1 Visa for Athletics

EB-1 and

EB-2 Visa

Family Visas

Green Cards

Deportation Defense

Investment Visas

Naturalization & Citizenship
Mr Mazaheri has been my immigration lawyer in the process of O1/artist visa. He's been very helpful, professional and communicative. Despite the stressful process, I felt that I could fully trust him and rely on his knowledge and skill. I got my O1 visa a few weeks ago and can't be more grateful for his work.
Working with Sethi and Mazaheri was one of the best experiences in my life in terms of immigration work. Shervin Abachi is the kindest, most patient and easy going lawyer I have ever come across. His team were so helpful in helping me put together my EB-1 application and guided me through out the whole process with meticulous detail. I knew from day one I was in the best hands. Thank you for all of your hard work and help. I can't wait for the next chapter of my life to begin.
We had a great experience with Sethi&Mazaheri LLC! Even though our immigration case took longer than expected, but they were extremely helpful to follow up on our case with senate congress to expedite our application. They always provided us with solutions even in the darkest moments when we thought we would never be able to get our green card!! I strongly recommend this law firm for your immigration cases.
Basic Consultation $300
Complex Consultation $500
Mon-Fri: 9am - 7pm
Sat & Sun: Closed
Nearby Immigration Lawyers in Jersey City: