Museum of Natural and Cultural History
Museum of Natural and Cultural History is the largest natural history museum in the Pacific Northwest and beyond. Museum of Natural and Cultural History is one of the Three Best Rated® Landmarks in Eugene, OR.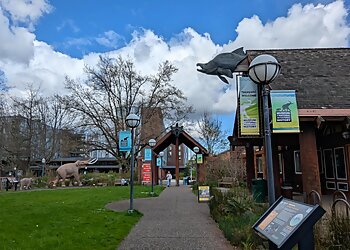 The Museum of Natural and Cultural History is commonly known as the UO Natural History Museum and is situated on the campus of the University of Oregon. The museum boasts an impressive collection of nearly 100,000 fossils from Oregon, the Pacific Northwest, and all over the world, as well as nearly a million archaeological artifacts, including the world-famous Fort Rock sandals. The museum comprises four divisions, namely the Condon Paleontological Collection, an Anthropological Collections division, an Archaeological Research Division (also known as OSMA), and a Public Programs Division. Admission is free for children aged 2 and under, MNCH members, UO students, faculty, and staff with ID, as well as active-duty military personnel with ID.
Cultural/Natural History

Ethnographic

Exhibit Halls

Historical Birds

Anthropological Collections

Public Programs

Museum & Cultural Gifts Store
Very interesting for a small museum. but if you want to learn about Oregon's culture history this is a good place to visit. One could spend a couple of hours looking, reading, and submerging oneself with the information they presented.
Great museum with many interesting, interactive, and well-curated exhibits! And it was free for me as a student which is always a big plus.
Love the welcoming environment into the past and science! A fun little activity to do with friends and family.
Wed-Sun: 10am - 5pm
Thu: until 8pm
Mon & Tue: Closed
Other Landmarks in Eugene: