Scott Brewer, LMFT - OKC MARRIAGE & FAMILY THERAPY
Scott Brewer is a licensed Marriage and Family Therapist in Oklahoma City, OK. Scott Brewer, LMFT - OKC MARRIAGE & FAMILY THERAPY is one of the Three Best Rated® Marriage Counselors in Oklahoma City, OK.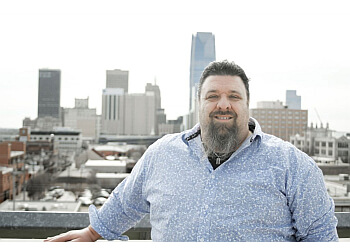 He completed his Master of Science in Marriage and Family Therapy/Counseling at Oklahoma Baptist University. Scott Brewer works systemically with couples, families, and individuals. He uses effective approaches to Trauma, Depression, Anxiety, Anger, Addiction, PTSD, and many more. He tailors his therapeutic approach to your specific needs. He believes that the quality of life can be determined by the quality of relationships in their lives. If you are ready to get to work on your relationships with those that you love, value, and cherish, he would love for you to give him a call. His approach emphasizes appreciating and celebrating differences within relationships. Scott Brewer practices at OKC Marriage & Family Therapy. The team can work together to understand the root cause of your struggles and address those issues with long-lasting strategies. To book an appointment, you can visit his website, make a phone call, or send an email.
Couples Therapy

Family Therapy

Anxiety

Depression

Post-Trauma Recovery

Stress Management

Domestic Abuse and Intimate Partner Violence

Addiction and Recovery

Abuse Survivor Issues

Relationship and Attachment Issues

Self Injury & Self Harm
Scott has grown to be a big part of our family! My husband and I started visiting Scott about 10 months ago. We were in a very tough place and he has given us a safe place to vent and also tools to help us work through those tough moments in between sessions. He has also been there to help our family work through unexpected turbulence. We were able to approach the situation with a plan and not just on knee-jerk reactions, which has been the unsuccessful normal response. We are working hard individually and collectively to make the changes needed to be more open and happier. We definitely recommend Scott to anyone that wants to have a laid back, yet professional guy help you find connection, direction, and/or a voice.
I saw Scott while I was in a program at Hope. He is amazing. In 20 plus years in and out of therapy, none could help me. Scott Is the only person that was able to be human and make me feel comfortable enough to be helped. He saved my life and gave me hope for the first time..
We have been seeing Scott for individual and marriage counseling for 6 months now and we could not be more grateful to him for helping our family stick together through a very difficult time! Very compassionate and understanding.
60 Minute Session (couples/families): $150
90 Minute Session (couples/families): $175

60 minute session packages for couples/families:
8 Sessions should be for: $1050 (1 Session Free)
10 Sessions: $1,350(1 Session Free)
12 Sessions: $1500 (2 Sessions Free)

90 minute session packages for couples/families:
8 Sessions: $1,225 (1 Session Free)
10 Sessions: $1,575(1 Session Free)
12 Sessions: $1750 (2 Sessions Free)
Mon-Thu: 8am - 9pm
Fri: 8am - 4pm
Sat & Sun: Closed
Other Marriage Counselors in Oklahoma City: