Shawn Maguire, LPC, MAFT - NEW VISION COUNSELING
Shawn Maguire is a licensed professional counselor with over 25 years of counseling experience dedicated to serving the greater Oklahoma City and Edmond areas. Shawn Maguire, LPC, MAFT - NEW VISION COUNSELING is one of the Three Best Rated® Marriage Counselors in Oklahoma City, OK.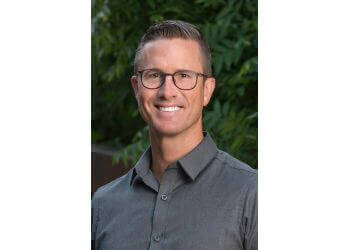 His expertise extends beyond being a prominent relationship therapist and business consultant. He has extensive training and experience in various areas, including relationship counseling, low self-esteem, Counseling for Executives and business owners, OCD, anxiety, struggles with faith, Premarital counseling, and many more. His commitment to ongoing professional development led him to acquire certifications in EMDR (eye movement desensitization and reprocessing), NLP (Neuro Linguistic Processing), ETT (Emotionally Transformative Therapy), CBT (cognitive behavioral therapy), and Brainspotting. He helps you navigate the complex labyrinth of personal issues and emotional distress you're currently facing. He has been a beacon of hope for countless individuals and couples for almost 30 years. Shawn Maguire's therapy goes beyond surface-level conversations, delving into the depths of your experiences and emotions. Whether you're grappling with relationship issues, low self-esteem, the pressures of entrepreneurship, or the challenges of parenting, Shawn's comprehensive approach to counseling helps illuminate the path forward. He is your supportive partner in this transformative journey and offers a safe place to be your authentic self, free from judgment or societal expectations. Shawn is dedicated to providing you with the support and guidance needed to unlock your potential for growth and healing.


Works with individuals, couples, and families
Changes many individual's lives
Always ready to meet you.
Family

Couples

Individual

Premarital

Marriage and Relationship Counseling

Stress Management

Depression

Emotional

Behavioral

Work and Career Issues

Premarital and Marriage Intensive

Obsessive Compulsive Disorder

Anxiety

Couples and Parenting Support

Anger Therapy

Conflict Resolution

Self-Esteem

Grief

Family & Executive Counseling
Shawn Maguire is my marriage & family therapist. I am so grateful for him and how he has changed my life through therapy and counseling. His methods with integration of Christian principles has taught me alot about myself and about my marriage. My family, my husband and my life are alot better and I have to publicly thank Shawn for everything that he has done for me so far. Highly recommend Shawn to friends and family. A new perspective on life.
My husband & I started counseling to help with our daughter. Before she had a rough time with anxiety and her temper. She had no idea how to deal with discipline or change, with Shawns help we have been able to direct our daughter in a more respectful God-centered relationship. She shows kindness, respect, remorse for wrongdoing & enjoys praying with us. Love how my daughter is showing her love for God and others now.
In my experience, Shawn is the best counselor out there. The insight he has is amazing and he's not afraid to say what needs to be said. He is able to cover a lot of ground in each session. He gives specific things to work on and offers a lot of tools to help.
Mon-Fri: 7am - 6pm
Sat: 8am - 12pm
Sun: Closed
Other Marriage Counselors in Oklahoma City: