Stephanie Levitt, MA, LPC, NCC - PATHWAYS COUNSELING SERVICES
Stephanie Levitt attained her Master's in Mental Health Counseling from Argosy University in Phoenix, Arizona. Stephanie Levitt, MA, LPC, NCC - PATHWAYS COUNSELING SERVICES is one of the Three Best Rated® Marriage Counselors in Scottsdale, AZ.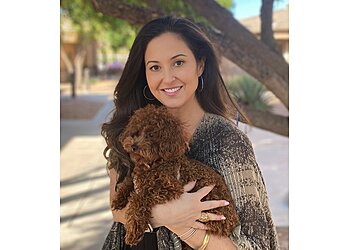 She is a Licensed Professional Counselor in the State of Arizona and holds the status of a Nationally Certified Counselor, practicing in Scottsdale. Stephanie is dedicated to providing a safe, compassionate, and non-judgmental environment for clients to explore distressing thoughts, emotions, and behaviors. Her area of expertise lies in treating individuals of all age groups who suffer from anxiety disorders, including Obsessive-Compulsive Disorder (OCD) and Post Traumatic Stress Disorder. Stephanie employs a range of therapeutic approaches, such as cognitive-behavioral therapy (CBT), dialectical behavior therapy (DBT), mindfulness, acceptance, and commitment therapy (ACT). She offers her clients flexible evening appointments, video therapy sessions, and complimentary phone consultations. She ensures that her services are easily accessible and accommodating to individual needs.
Marriage

Individual

LGBT

Pre-Marital

Couples and Relationships Counseling

Addiction

Depression

Infidelity

Divorce

Anxiety

Trauma

Bullying

Self Esteem

Eating Disorder

Grief

Borderline Personality

Anger

Co-Dependency

Abuse & School Issues
I am extremely grateful to Stephanie and her staff for their incredible service and guidance for my son and his wife. Without their superb and hands-on approach to my son's marital issues, he and my wonderful daughter-in-law would not have lasted. This COVID crisis added another layer of stress in their lives and I strongly believe without Stephanie and her amazing staff life would be much more difficult. Thank you thank you, Stephanie.
Pathways Counseling Services has helped me so much! My therapist even calls me back on the weekend and in the evening if I need her to. So responsive and truly the most insightful and healing therapy I've ever done.
I found Stephanie through a referral from a friend and I couldn't be happier about it. She helped me to turn my life around. I finally healed from my past and learned healthy coping strategies. A million thank yous would never be enough!
Initial 75-minute session is $280-$490
Mon-Sat: 9am - 7pm
Sun: Closed
Nearby Marriage Counselors in Scottsdale: