Hand & Stone Massage and Facial Spa
Hand & Stone Massage and Facial Spa Orlando stands out as one of the premier massage centers in Orlando county, offering professional spa experiences at affordable prices, seven days a week since 2013. Hand & Stone Massage and Facial Spa is one of the Three Best Rated® Massage Therapy in Orlando, FL.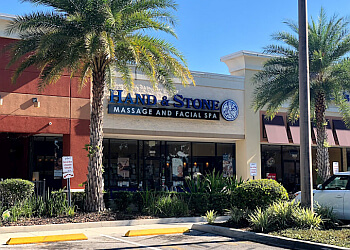 As you step into the spa, you are welcomed by soothing sounds and delightful aromas, creating a serene ambiance that sets the stage for relaxation and rejuvenation. Their team of certified Estheticians is dedicated to providing tailored facials for women, men, and teens, ensuring personalized care and exceptional results. The massage services offered at Hand & Stone are designed to cater to everyone, providing relief from tension, soothing tired muscles, and alleviating migraines in today's stress-filled world. With a wide range of options, including Swedish, deep tissue, and sports massages, Hand & Stone Massage and Facial Spa ensures that each guest finds the perfect treatment to suit their specific needs. Contact Hand & Stone Massage and Facial Spa today to schedule your appointment, as they are open seven days a week with extended hours to accommodate your busy schedule. Consider gifting the rejuvenating experience to your loved ones with available gift cards for all occasions. Discover a sanctuary of tranquility and indulge in the transformative spa experiences that await you at Hand & Stone Massage and Facial Spa Orlando.
Swedish

Sports

Deep Tissue

Trigger Point and Pre-Natal Massages

Peppermint Scalp

Mens

Sensitive Skin

Teen

Rejuvenating

Classic

Mini Cold Stone Face

Rosacea and Detox Facials

Microdermabrasion

Glycolic

Cryoskin Services

Lactic & Salicylic Peels
All I can say it wow. This was like a near life-changing experience. I signed up for a membership to see how it goes, and I have 0 regrets so far. The check in staff were friendly and welcoming. But the star of the show was definitely my masseur, Will. I've never really been to a spa before and Will was incredibly kind and patient. He made sure I knew exactly what to expect and made sure I was comfortable. He asked me if I had any problems areas, and he was really able to focus on them. As far as pricing, it's pretty reasonable and comparable to other places (at least from what I can tell online). But anyway, go check this place out. You won't regret it. And ask for Will if possible, the dude is a saint!
Was referred here by my chiropractor at The Joint. I met Sidney and she was great! She worked out all my muscles that I overuse on a daily basis and made me feel very relaxed! Highly recommend this place!
Always love getting massages here at Hand and Stone. Service is always great, facility is clean and everyone is always so kind. I will be returning soon!
Introductory Swedish Massage 1 Hour: $69.95
Introductory Classic Facial: $69.95
Swedish Massage 1 Hour: $119.95
Classic Facial - Clarity: $119.95
Men's Facial - Clarity: $109.95
Teen Facial - Clarity: $109.95
Teen Facial - Dermalogica: $59.95
Cryoskin - Facial Toning with Coupler: $225
Cryoskin - Abdomen:$350
Intro Inner Thighs Cryo: $250
Introductory Cryoskin Service: $250
Cryoskin - Back Thighs: $350
Cryoskin - Bra Line: $350
Cryoskin - Double Chin: $350
Cryoskin - Inner Thighs: $350

Mon-Fri: 9am - 9pm
Sat: 9am - 8pm
Sun: 10am - 7pm
Nearby Massage Therapy in Orlando: