Guapo Mexican and Cuban Cuisine
Guapo Mexican and Cuban Cuisine, situated in downtown Yonkers near the waterfront, is a stylish restaurant that combines the flavors of Mexico and Cuba. Guapo Mexican and Cuban Cuisine is one of the Three Best Rated® Mexican Restaurants in Yonkers, NY.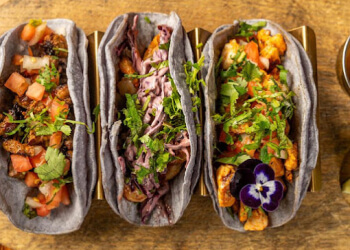 With a rustic and artistic ambiance, their dining room showcases vibrant colors and captivating images. Guests can indulge in a variety of Mexican classics, including the renowned mole poblano and flavorful fajitas. Additionally, Guapo Mexican and Cuban Cuisine presents an authentic fusion of Cuban and Mexican dishes, such as the guapo mocaljete, branzino a la talla, camarones quetzal, and punta mexicana. The restaurant takes pride in providing excellent customer service, ensuring a memorable dining experience for every guest. Vegetarian lovers will find many enticing options on the menu, making Guapo Mexican and Cuban Cuisine a great destination for diverse dietary preferences. Outdoor seating is available for those who prefer to dine al fresco. Moreover, the restaurant offers catering services to cater to special events and functions.
MENU: Tacos Guapo

Quesadillas

Chimichangas

Burrito

Mole Poblano

Fajitas

Guacamoles

Guapo Wings

Pulpo Al Grill

Mejillones Al Vino

Frida Calamari

Mofonguito Trio

Maduro Relleno

Elotes

Queso Fundido Con Chorizos

Chicharron De Pollo

Nachos

Mexican Empanadas

Ceviche Cubano

Yuca Rellena

Marinated Chicken Breast

Sides & Pasta Con Pollo
We had such a great time for Mother's day, the food was great and the staff is so friendly. You feel like you're at home, also they gave us free shots like twice! I couldnt believe it. Me & my family really loved it. We will be back & I'll be recommending this to everyone! Also Rosa was such a great waitress !
My 5th time at El Guapo and the food and service is always exceptional. Today we were celebrating my sister's birthday and we had the best of time. Food is delicious, service is always great and ambiance is perfect. We will be back soon.
This place was amazing. Best part was our waiter Steven. Absolutely crushed it with the customer service and made our birthday lunch a great one. Thanks again!
GUAPO'S MEXICAN SPECIALTIES
Tacos $12.00
Quesadilla $12.00
Enchiladas $19.00
Burrito $16.00
Chimichanga $20.00
Molcajete $36.00
Fajitas $19.00
GUAPO'S CUBAN SPECIALTIES & MEAT
Vaca Frita $24.00
Ropa Vieja $24.00
Bistec Encebollado $24.00
Pernilito Cubano $32.00
GUAPO'S SEAFOOD
Stuffed Fillet of Fish $28.00
Camarones Quetzal $28.00
1.5-2lb Branzino a La Talla $30.00
Salmon Guapo $30.00
GUAPO'S CHICKEN DISHES
Mole Poblano $20.00
Pollo Cubano $22.00
Pasta Con Pollo $22.00
APPETIZERS
Elotes $6.00
Guacamole $13.00
Guacamole with Crab Meat $18.00
Guacamole with Shrimp $18.00
Cuban Empanadas $10.00
SIDES
Fresh Jalapeno $1.00
Rice & Beans $6.00
Grilled Vegetables $6.00
Mexican Fries in Chipotle Mayonnaise $7.00
Other Mexican Restaurants in Yonkers: