Rob Parisien, MD, FAAOS - Elliot Orthopaedic Surgical Specialists
Rob Parisien, MD, FAAOS - Elliot Orthopaedic Surgical Specialists is one of the Three Best Rated® Orthopedics in Manchester, NH.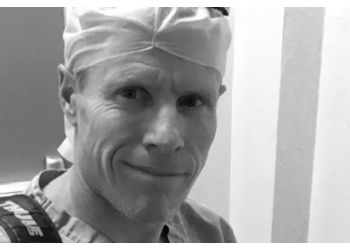 Dr. Rob Parisien pursued a career in orthopedics, starting in 2004 after completing the prestigious Harvard Combined Orthopaedic Residency Program. He graduated with honors (AOA) from Dartmouth Medical School in 1999. He then went on to do a fellowship in arthroscopy, sports medicine, and shoulder arthroplasty at Harvard. With over 18 years of experience, Dr. Parisien has extensive knowledge in general orthopedic surgery and sports medicine. His expertise spans a variety of areas, including orthopedic trauma such as pediatric, pelvic, and acetabular fracture non-union repair, as well as hand trauma. He is also well-versed in treating common injuries such as broken wrists, shoulder fractures, hip fractures, hand injuries, tendon ruptures, and ankle fractures. If you're seeking expert orthopedic care, schedule an appointment with Dr. Rob Parisien.
Orthopaedic Trauma and Fracture Surgery

Shoulder Arthroplasty

General Orthopaedics & Sports Medicine
I tripped and ended up with a Spiral Fracture of my Humerus that was very bad...I had to have surgery & I got in 3 days after my fall.....Dr. Parisienne said it was even worse than he thought...loved his staff he was great, answered all of my questions.....would definitely recommend him to any patient. I live Seabrook & I do not trust Core Orthopedics... I was med Flighted to Brigham and Women's hospital in Boston after a severe Tibial Plateau fracture...major surgery, it if wasn't so bad Core Ortho @ Exeter Hospital ER told me they could operate....when Donkeys Fly! The Exeter ER Ortho physician sent along notes to Brigham & Women's that I had shattered my Knee Cap & I also had cracked ribs.....I was put through the MRI machine & neither was true....I wouldn't let them operate on a stuffed animal!
I am still in treatment side and about 1.5 weeks out from my 5th surgery for a broken wrist that never healed correctly. This guy performed 3 surgeries on me/in 6-7 days from a bad motorcycle accident. He is informative and informal as well. You will feel very comfortable around him and confident in his skills. I rate him 5 Stars!!
Found him to be very personable, engaging, and collaborative . He was willing to listen, gave clear understandable options and engaged me in decision making. I have had unpleasant experiences with other orthopedic surgeons that I found to be arrogant. Not so, with Dr Parisien. Trusted him quickly and thoroughly. Highly recommend.
Cigna HMO & Open Access Plus
Mon, Wed & Fri: 7:45am - 11:45am
Nearby Orthopedics in Manchester: