Alexander D. Imas, MD - DYNAMIC PAIN REHABILITATION
Alexander D. Imas, MD - DYNAMIC PAIN REHABILITATION is one of the Three Best Rated® Pain Management Doctors in Henderson, NV.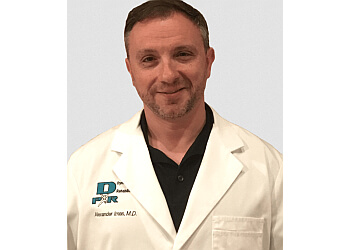 Dr. Alexander D. Imas is a highly regarded physician specializing in pain management, located in Henderson. With a remarkable 25 years of experience in the medical field, he is licensed to practice medicine in Nevada. Dr. Alexander obtained his medical degree from Wayne State School of Medicine in Michigan and completed his residency at William Beaumont Hospital. He possesses exceptional skills and expertise in the fields of pain management and rehabilitation. Dr. Alexander's area of focus includes the treatment of conditions such as fibromyalgia and nerve injuries. Currently, he practices at Dynamic Pain Rehabilitation, a comprehensive treatment center catering to both acute and chronic pain. This clinic offers a wide range of services, making it a convenient and all-inclusive destination for individuals seeking effective pain relief.
Migraines

Arthritis

Chronic

Acute

Narcotic

Non-Narcotic and Failed Surgical Pain

Nerve Injury

Herniated Disc

Spine Disease

Muscular and Skeletal Injury Trauma

Acute Sports Injury

Joint Disease

Fibromyalgia & Chronic Sports Injury Rehab
Dr Imas is the best with bedside manners! He listens and cares about what is the right treatment for me as a patient. He takes the time to explain medications, procedures and the necessity for durable equipment used to alleviate one's pain. I have had many joint injections from top physicians to alleviate pain and Dr Imas is at the very top of the list!! I must also say that Dr Imas' Wonderful Team consistently conveys knowledge, kindness, caring and the most courteous demeanor.. Thank you so much Everyone!!! A true blessing!!
Dr. Imas and staff has given me the opportunity to live normal again, I cannot thank them enough for everything they've done for me. Not being able to walk, drive or work, he has given me my life back. I really love Sarah, she is an amazing, most caring and she goes above and beyond for her patients. I had a personal issue with my pharmacy and she took it amongst herself to help me get the help I needed and didn't stop until it was done. Another thing I appreciate the most is she listened with zero judgment. Big Thanks to Sarah!!!! I am so happy I had gotten referred to them all the way from Detroit!
Dr. Imas is awesome! He is very personable, courteous, professional, and knows his profession well. He actually listens to patients when they have concerns and spends time explaining things completely. I have referred friends to him and they have had the same experience.
Aetna, Amerigroup (Wellpoint), Anthem, Anthem Blue Cross Blue Shield, Assurant Health, Blue Cross Blue Shield, Blue Cross Blue Shield of California, Cigna, Coventry Health Care, First Health (Coventry Health Care), Medicaid & UnitedHealthCare
Mon-Thu: 8am - 5pm
Fri-Sun: Closed
Nearby Pain Management Doctors in Henderson: