Daniel E. Fabito, MD - Fabito Anesthesia & Pain Specialist PC
Daniel E. Fabito, MD - Fabito Anesthesia & Pain Specialist PC is one of the Three Best Rated® Pain Management Doctors in Henderson, NV.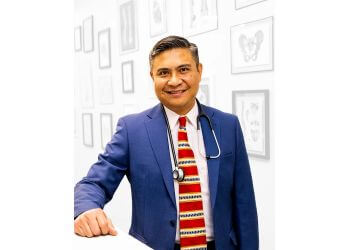 Dr. Daniel E. Fabito is an experienced pain specialist located in Henderson, with a board certification and fellowship training in the field. With over 21 years of experience in the medical profession, Dr. Daniel holds certifications from reputable organizations including the ABA, ABAPM, ABIPP, and ABPM. He earned his medical degree from the American University Of The Caribbean School Of Medicine. Dr. Daniel's approach to pain treatment is comprehensive and multidisciplinary, emphasizing a holistic perspective. He prioritizes minimizing the reliance on opioid therapy and employs a wide range of treatment methods. Notably, he specializes in conducting high-frequency SCS trials and implants. Utilizing the most advanced and innovative pain management procedures available today, Dr. Daniel focuses on providing effective and healing care to his patients.
Acute

Chronic

Neck

Mid-Back

Myofascial

Neuropathic

Pelvic

Phantom Limb and Central Pain

Coccygodynia

Costochondritis

Diabetes

Platelet Rich Plasma

Radiofrequency Ablation

Fibromyalgia

Headache Management

Intractable Spasticity & Post-Thoracotomy Pain Syndrome
Dr. Fabito is an EXCELLENT Dr. He takes the time to thoroughly explain everything in detail and will listen to all your concerns. If you ever had a dr. that didn't listen to your concerns you know how that feels. I no longer dread my appointments after leaving my previous dr. If you left a rating under 4 stars for this office that is completely unfair. It is NOT the drs responsibility to get you/keep you high off of medication that isn't what this office is for! It also makes it much harder for the people that actually need medication to get it. HIGHLY recommend this office. You won't be disappointed.
Dr. Fabito is a great doctor...the best in town! He is compassionate, caring, asks how I am doing and actually listens to my response. I have major health improvements since I began seeing him. I would walk the streets handing out business cards if I could. Do not overlook this doctor, he is truly the best. I would recommend him to anyone seeking a Physician that is as interested and invested in your recovery as you are. TOP NOTCH! Thank you so much for your concern and guidance through my difficult healthcare journey.
I would give 5 stars for patient care, I absolutely love Dr.Fabito however they are still requiring masks and if you don't have one they make you pay for it. If you require something you should provide it. If you don't have one and are disabled and get dropped off you are made to wait outside in 100 degree weather. I am extremely disappointed as to how this is being taken care of.
Accepts Aetna, United Health Care & all PPO plans
Nearby Pain Management Doctors in Henderson: