Gary M. Lovcik, OD - ANAHEIM HILLS OPTOMETRIC CENTER
Gary M. Lovcik, OD - ANAHEIM HILLS OPTOMETRIC CENTER is one of the Three Best Rated® Pediatric Optometrists in Anaheim, CA.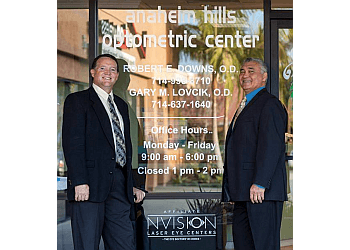 Dr. Gary M. Lovcik obtained his doctorate degree from the esteemed Southern California College of Optometry. With a passion for his field, he has developed expertise in various areas, including laser refractive surgery, contact lenses, and the detection and treatment of ocular diseases. Dr. Lovcik is an active member of both the American Optometric Association and the California Optometric Association. One of Dr. Lovcik's special interests lies in working with specialized athletes to optimize their visual performance, recognizing the crucial role vision plays in athletic endeavors. At Anaheim Hills Optometric Center, advanced diagnostic equipment is employed to detect even the subtlest changes in vision and eye health. This state-of-the-art technology allows for early detection and intervention, ensuring comprehensive care for each patient. The experienced staff members at the center possess expertise in all areas of vision care, providing a well-rounded and comprehensive approach to eye health. With a dedication to delivering exceptional care, the friendly and professional eye care team at Anaheim Hills Optometric Center is committed to providing the highest quality eye care services to patients of all ages. Dr. Gary M. Lovcik and his team prioritize patient satisfaction and well-being, ensuring that each individual receives personalized and top-tier eye care.
Pediatric Vision Care

Detached Retina

Dry Eye Treatment

Floaters

Flashes

Amblyopia

Strabismus

Conjunctivitis

Armd (Age-Related Macular Degeneration)

Glaucoma

Cataracts

Diabetic Retinopathy

Ocular Allergies

Computer Vision Syndrome

Low Vision

Myopia (Nearsighted)

Hyperopia (Farsighted) & Keratoconus
The office staff was very nice and greeted me right away when I got to the desk. Dr. Lovcik was amazing and very patient. He answered all my questions thoroughly and did it with a smile. He made me feel comfortable with my decision to do laser correction surgery and walked me through other options I may have for the surgery. This was a great recommendation.
Dr. Lovcik did a great job. He explained everything to me in a very clear manner. He was also kind and friendly. All of the staff was great – they were helpful, patient and helped with my insurance. I would highly recommend to anyone.
Dr. Lovcik take the time to explained my condition and give me advise about my treatment. And the best prescription for my eyes. Personal in the optict was very kind. They have a good variety of frames and good prices.
VSP, Eyemed, Medicare, Golden West Dental & Vision, Blue Cross Blue Sheild, Davis Vision, Vision Plan of America, Superior Vision, Medical Eye Services & Most PPO's
Mon-Fri: 9am - 1pm |
2pm - 6pm
Sat & Sun: Closed
Nearby Pediatric Optometrists in Anaheim: