1st Response Pest Control
1st Response Pest Control is a professionally qualified and trustworthy pest control company that has offered a wide range of efficient and affordable pest control services for residential and commercial clients for more than 18 years. 1st Response Pest Control is one of the Three Best Rated® Pest Control Companies in Palmdale, CA.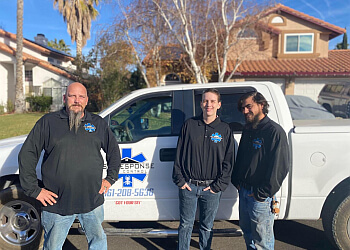 Jeff R. is the company manager, and he has years of experience and industry-based knowledge in the field. 1st Response Pest Control and its team constantly strive to deliver reliable and dependable service at affordable prices and offer a solid alternative to the majority of the pest management industry. They have an excellent reputation for their on-time service delivery and professionalism. 1st Response Pest Control also offers referral credits when you refer others who sign up for regular pest control accounts. Serving Palmdale and its surrounding areas, they take pride in delivering 100% customer satisfaction and affordable services. They have 24/7 access to make their service appointment.
Spiders

Bed Bugs

Ants

Cockroaches

Animal Removal

Roaches

Rodents

Rats

Mice

Spider

Fleas

Flies

Ticks

Mosquitoes

Mites

Stinkbugs

Pantry (Stored Product) Pests

Moths

Wasps

Bees

Scorpions

Rodent Proofing

Residential & Commercial Pest Control Services
Everyone at 1st Response is professional, helpful, friendly! It was a bad summer for pests this year but 1st Response helped immensely. They are always more than happy to answer any questions and are extremely responsive. Highly recommend!
They were so awesome to respond so quickly. And have stayed in touch to ensure the problem is resolved. Mark and Jeff were very friendly and polite the entire service. Very professional. Definitely recommend
Love this company! All of the employees are professional and make you feel comfortable at all times. They are easy to work with and I would highly recommend them to anyone looking for an exception pest control company!!!
Discount
$100 Off for new service account
Mon-Fri: 8am - 5pm
Sat: 8am - 2pm
Sun: Closed
Nearby Pest Control Companies in Palmdale: