Quik-Kill Pest Eliminators Inc.
Quik-Kill Pest Eliminators Inc. Quik-Kill Pest Eliminators Inc. is one of the Three Best Rated® Pest Control Companies in Joliet, IL.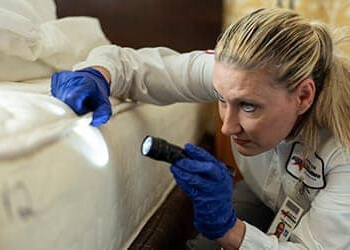 is a local, family-owned pest control company in Joliet. The company offers effective pest control services for residential and commercial customers. The team has more than a year of experience in the industry, they have licensed and insured technicians, and they provide the safest solutions for all your pest issues. Quik-Kill Pest Eliminators use less toxic-free chemicals and provide eco-friendly solutions. They offer the most comprehensive protection against common household pests as well as termites at a low price. They offer free inspection and free estimates. They have developed reliable and effective year-round residential pest control services. They are committed to providing 100% customer satisfaction and free estimates for your convenience.
Mosquitoes

Beetles

Yellow Jackets

Wasps

Hornets

Voles

Flies

Gnats

Sparrows

Cockroaches

Ticks

Starlings

Bed Bugs

Fleas

Ants

Snakes

Moths

Bees

Rodents

Spiders

Mice

Rats

Bats

Squirrels

Wild Life

Raccoons

Pigeons & Termites Control
My dad paid $800 to get rid of our ants and they are still here. Every time my dad schedules them to come and spray they never come. My dad would have gotten rid of the ants himself but he has cancer and has no energy to do so. Thanks for taking my dad's money from him and not doing the job correctly. I will never go here again.
I have had Quik-Kill Pest Eliminators, Inc for almost 15 years. They do a fantastic job. Jim is the technician who takes care of my home and he does a very thorough job. He wants to update the termite traps. Now if he wouldn't have brought it up I would have never known they needed updating so Koodos to Jim for knowing his job.
The person I spoke with on the phone was extremely helpful and very curtious and pointed me in the right direction
Mon-Fri: 6am - 6pm
Sat: 8am - 4pm
Sun: Closed
Nearby Pest Control Companies in Joliet: